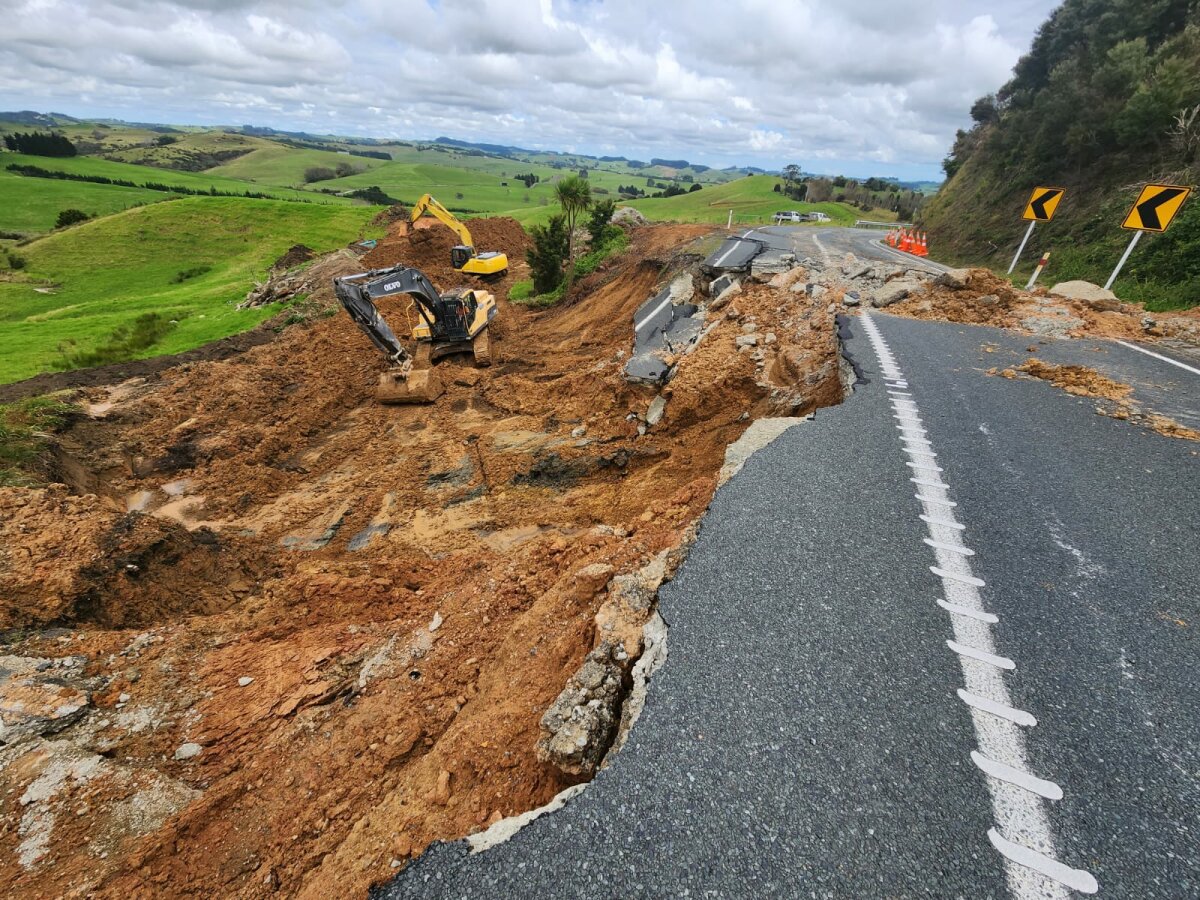 NORTHLAND CIVIL DEFENSE MEDIA RELEASE
Authorities in Northland are advising travellers to stay up-to-date and amend their plans if necessary as key local roads damaged in Friday's heavy rain around Mangawhai and surrounding areas will remain closed until midweek and in some cases, longer.

Key among the closed roads is the Cove Road detour route (Waipu to Mangawhai and onwards to Kaiwaka) which has been used by many travellers since SH1 through the Brynderwyns has been closed by slips.

Repairs to the bridge at Langs Beach will not be completed before the end of tomorrow (Monday 27 February) at the earliest. Further south on this route, there is still a slip to be cleared from Cove Road on the Mangawhai side and in turn, work cannot start on this until power company Northpower has been able to complete the relocation of a high-voltage power line around a landslip.

"Friday's downpours over Mangawhai and the surrounding area have caused significant damage and despite the contractors giving it their all over the weekend, the options are still quite limited," said Northland Civil Defence Emergency Management Group Controller Graeme MacDonald. "We know there are many people who live and work around the Mangawhai and surrounding area whose normal routes will not be available, as well as the freight industry and visitors to our region.

"By midweek, we expect to have a better set of options around this area; however it will be Friday before the full reopening of the official SH1 Brynderwyn detour route for light vehicles through Mangawhai and Waipu. Until then, unfortunately all parties are going to have to continue to compromise. The damage to those roads has been significant and we appreciate all the work that's been put in over the weekend, including the restoration of SH1 at Topuni by Waka Kotahi NZ Transport Agency - Northland overnight by Saturday morning."

State Highway access in and out of Northland
While SH1 Brynderwyns remains closed to all traffic, the detour routes for all traffic between Auckland and Northland are:
SH12/14 via Dargaville. This is the recommended route for all heavy traffic
Paparoa/Oakleigh Road. A temporary 70km/h speed limit is in place
Access in and out of Mangawhai for local residents/workers and local freight deliveries only.
Mangawhai Rd off SH1 near Te Hana is the only access point into Mangawhai tomorrow. There is still one single-lane section of this road past an underslip and there are concerns about further deterioration of this. Kaipara District Council and roading partner the Northland Transportation Alliance is asking that only local traffic (people who live or work in Mangawhai) and local freight deliveries use this route to get in and out of Mangawhai.
Other through-routes (unsealed local roads) between Kaipara and Whangarei districts are also restricted or closed.
Waipu Gorge Road is closed due to a slip during Cyclone Gabrielle.
Finlayson Brook Road is closed by a dropout/underslip.
Cove Road between Mangawhai and Waipu
Cove Road from Mangawhai to Waipu is not currently available as a detour route due to the Langs Beach bridge being closed. It remains open at either end but cannot be used as a through road. The Langs Beach bridge has been assessed by a structural engineer and while there is no damage to the bridge structure, the abutments have been washed out and contractors are working on backfilling these. Pedestrians also advised to not use due to risk of pavement collapse.
A slip near King Road on the Mangawhai side will be cleared once Northpower has completed relocation of a high-voltage power line.
Access between Waipu and Mangawhai is expected to re-open from tomorrow (Monday) evening with the completion of partial restoration works on the bridge at Langs Beach.
However, at this stage, the likely date for full reopening of the official SH1 Brynderwyn detour route for light vehicles through Mangawhai and Waipu is Friday 3 March.
When it does reopen, the restriction to prevent use by truck and trailer units, as directed by the Northland CDEM Group Controller, will remain and will continue to be supported by Police patrols.
Other key roads between Mangawhai and Kaiwaka:
Kaiwaka-Mangawhai Road remains closed near Hilltop Road intersection due to a major underslip. Excavation works are continuing there today, with the current expectation this may open midweek, with two lanes unsealed.
Devich Road remains closed at the bridge due to safety risk. Access is available out both ends.
Mangawhai area roads down to single lane in places due to slips or drop-outs:
Mangawhai Road (as noted above)
Baldrock Road
Garbolino Road
Tara Road
Lawrence Road
Pebblebrooke Road
Sailrock Drive is open, but water is still being pumped from properties there.
Mangawhai area roads recently closed and now open:
Tara Road is now open to local traffic only
Valley Road
Settlement Road.
Related stories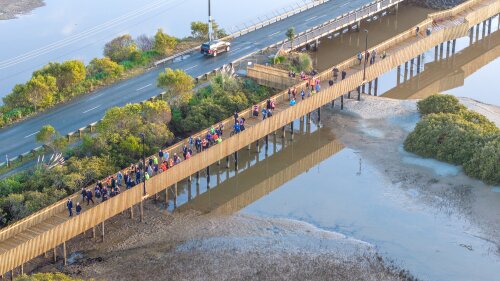 Sunny weather and an incoming tide provided the perfect backdrop to open the Mangawhai boardwalk to a large gathering last week.
The boardwalk is the second phase of the Mangawhai shared path project, connecting the village to the heads, and making it safer and easier to travel by foot, bike, or scooter along busy Molesworth Drive.
Read more