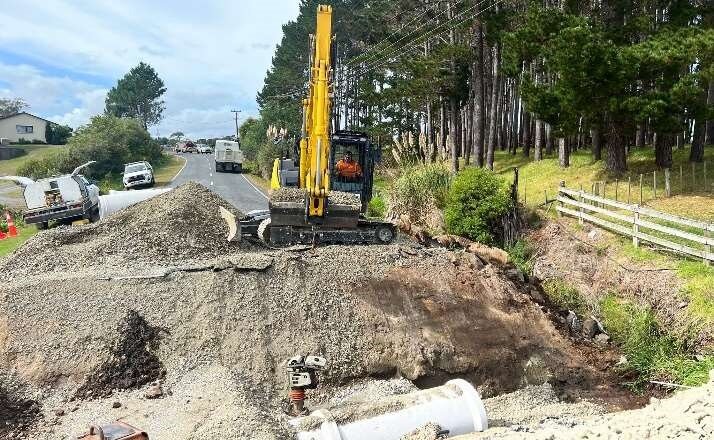 This month, we were fortunate to avoid any weather events or cyclones that could have caused disruptions to the network, allowing us to focus on addressing the extensive list of repairs caused by Cyclone Gabrielle.
We have been primarily focused on clearing slips, performing tree and drainage works, and continuing with the unsealed rehabs program.
A total of 1,975 individual work items were completed throughout April, of which 1,471 were routine issues, 297 were cyclic, 24 were renewal/capital project works and 28 were programed works. There were 155 callouts or emergency response works.
On sealed roads, 191 potholes were repaired in Aoroa, Bradleys Landing, Donnellys Crossing, Hakaru, Kaiwaka, Mangawhai, Maramanui, Maungaturoto, Paparoa, Pouto, Ruawai, Te Kopuru, Tokatoka, Waihue, Whakapirau.
1,093 unsealed potholes were repaired in Aoroa, Arapohue, Aratapu, Avoca, Bradley's Landing, Dargaville, Donnellys Crossing, Katui, Kirikopuni, Mahuta, Naumai, Omana, Oturei, Paparoa, Pouto, Pukehuia, Redhill, Ruawai, Tangowahine, Te Kopuru, Te Maire, Turiwiri, Tutamoe, Waikara,
In drainage maintenance and renewals, 39 culverts were cleared, 48.5m of culvert pipes were replaced with 444m of heavy water tabling completed.
Signs were straightened, replaced or reinstated in Aoroa, Arapohue, Baylys Beach, Dargaville, Donnellys Crossing, Huarau, Kaiwaka, Mahuta, Mangawhai, Mararetu, Marohemo, Matakohe, Maungaturoto, Mititai, Omamari, Parore, Paparoa, Pouto, Redhill, Ruawai, Taipuha, Te Kopuru, Tinopai,Tutamoe, Waihue, Wairere, Whakapirau, Whatoro.
Maintenance grading was done on Black Swamp Road, Brown Road, Devich Road, Franklin Road, Golden Stairs Road, Kellys Bay Road, Lawrence Road, Opanake Road, Pouto Road, Raymond Bull Road, Redhill Road, Settlement Road, Sterling Road, Te Tuhi Road, Waikara Road, Wearmouth Road, Worthington Road.
In April, 66km of unsealed roads were graded, equating to 6% of the total unsealed network. With the network in a highly saturated and delicate state, we are being cautious with maintenance grading to ensure we are not causing more harm than good to our roads. Grading during periods of continuous rain are generally counter productive and can leave a road in a slushy or muddy state. Rest assured we are doing what we can between weather events.
Throughout the month 6,627m of roading was resealed in Ruawai, Matakohe, Dargaville and Pouto. In the 2022/2023 reseal season, 33km were resealed across 64 sites using 457,283 litres of hot bitumen spray.
Dangerous trees were removed on Avoca North Road, Bradleys Landing East Road, Judd Road, Opanake Road, Pouto Road, Wearmouth Road.
Slips were repaired or cleared on Baylys Coast Road, Bull Road, Kaiwaka-Mangawhai Road, Kellys Bay Road, Opanake Road, Paparoa-Oakleigh Road, Pouto Road, Pukehuia Road, Tangowahine Valley Road, Waihue Road, Waimata Road.
Cyclic roadside spraying was done in the Dargaville, Kaiwaka, Mangawhai, Matakohe, Maungaturoto, Pouto areas.
You can check out an overview of roading improvement projects by year and location in a map format on our website
Related stories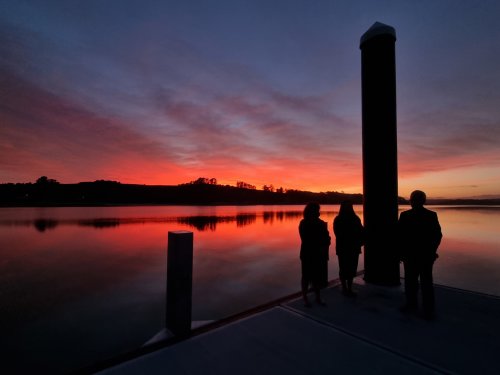 Construction for the Pahi wharf upgrade ended as it began months ago, with the sky lighting up slowly on the people gathered together. Voices joined in karakia and waiata, led by kaumatua Hone Martin and representatives of Te Uri o Hau swirled around the Kaipara harbour as a dawn blessing was performed to open the wharf's gangway and pontoon.
Read more