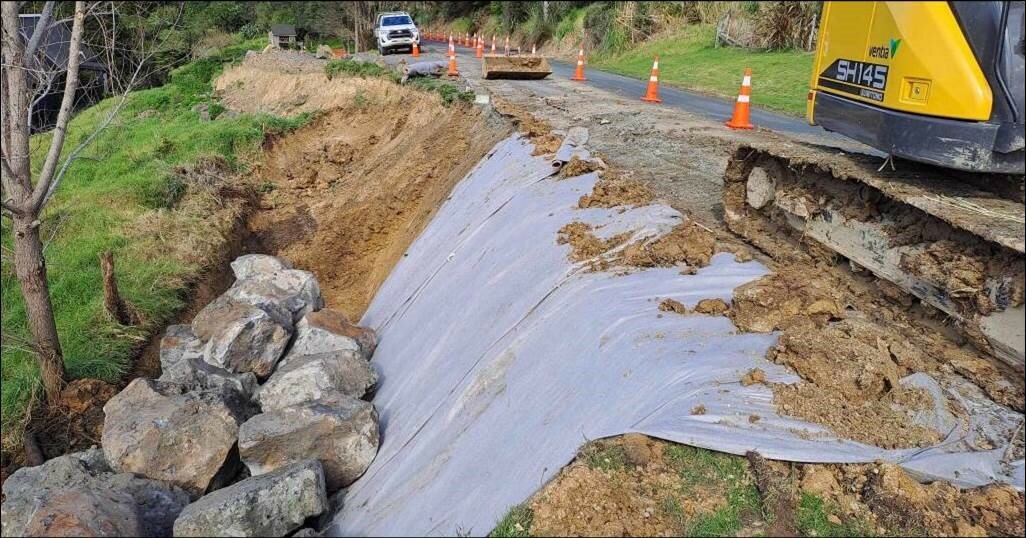 Road and slip repairs being undertaken on Cames Road
Roads
Northland roading improvements to ramp up
Northland's three District Council roading teams are gearing up for a major resurfacing and road repair programme in the hope wet weather is set to ease.
Spring and summer are traditionally the seasons roadcrews can ramp up activity around roading improvements and road renewal programmes.
Roading crews hampered by ongoing wet weather have focussed on temporary repairs in recent months to get Northland motorists through winter, while plans were finalised to launch into a full resurfacing programme from now. Those more permanent repairs will continue throughout spring, summer and autumn.
While the extremely wet summer of 2022/2023 only allowed crews five clear weeks of road construction, NTA General Manager Calvin Thomas is hoping for an ongoing break in the weather, particularly from September onwards, to allow crews to undertake an uninterrupted stretch of critical work across Northland's Council roading networks.
"Because it was such a wet season last summer, we could not do anywhere the amount of resurfacing or unsealed network improvement works that we had planned, which was very frustrating and we were also contending with emergency event repairs from all of the storm events over the past year or two," says Mr Thomas.
"Northland's three District Councils are planning for delivery of a combined $200 million of investment in repairs, maintenance and improvements to our local roading and transport networks over the next 12 months. So, from September and throughout summer, it will be a very busy time on our roads as we play catch up."
Mr Thomas says following Cyclone Gabrielle, crews have completed approximately $25 million of emergency repair works out of the estimated $89 million across the Far North, Whangārei and Kaipara District Council networks. These initial repairs are focussed on the less complex sites, with planning underway to begin the programme of initiating repairs on larger sites.
As work continues on these slip repairs, with over 100 significant slip sites remaining across the region, some of the repairs are expected to take several years to fully complete.
Summer is also time to properly fix areas under stress, usually indicated by potholes because it can effectively be done when the ground is dry, he says.
"On average, we are identifying and attending to more than 8,500 potholes per month, but again we ask ratepayers to phone their local council and report any urgent potholes or roading damage."
His sentiments are reiterated by WDC Chief Executive Simon Weston who, speaking on behalf of all three Councils, says Northlanders can look forward to more roading progress in months to come.
"Northland's elected members, staff and contractors are all aware that the current state of Northland's local road network is significantly below where it needs to be," says Mr Weston.
"The significant amount of work planned over the next six months will result in improvements, however, on top of this we are also undertaking a full review of our roading activities to ensure our communities are receiving quality and value outcomes."
Key roading projects to get underway in Kaipara in the coming weeks and months are as follows:
Unsealed road rehabilitation (pavement rebuild) treatments are planned for approximately 20 roads across the Kaipara District, including Awakino Point North Road, Gorge Road, Lawrence Road and Oruawharo Road.
Sealed road rehabilitation works are also planned on sections of roads across the Kaipara District, including Baylys Coast Road, Baldrock Road and Moir Street.
Phase three of the Mangawhai shared path will begin late 2023, filling in the remaining sections to provide a continuous link between Mangawhai village and the heads.
Dargaville shared path will commence (pending final Council approval) creating a number of off-road cycle routes throughout the town connecting key locations to provide safe walking and cycling access between schools, shopping areas and residential areas.
Ratepayers and residents can keep up to date with resurfacing and road repair programmes at: https://www.kaipara.govt.nz/road-repairs
Related stories
The end of another winter gave us some much-needed sunshine and blue skies. Now with Spring upon us and the days getting longer, our focus moves to pavement works.
Read more