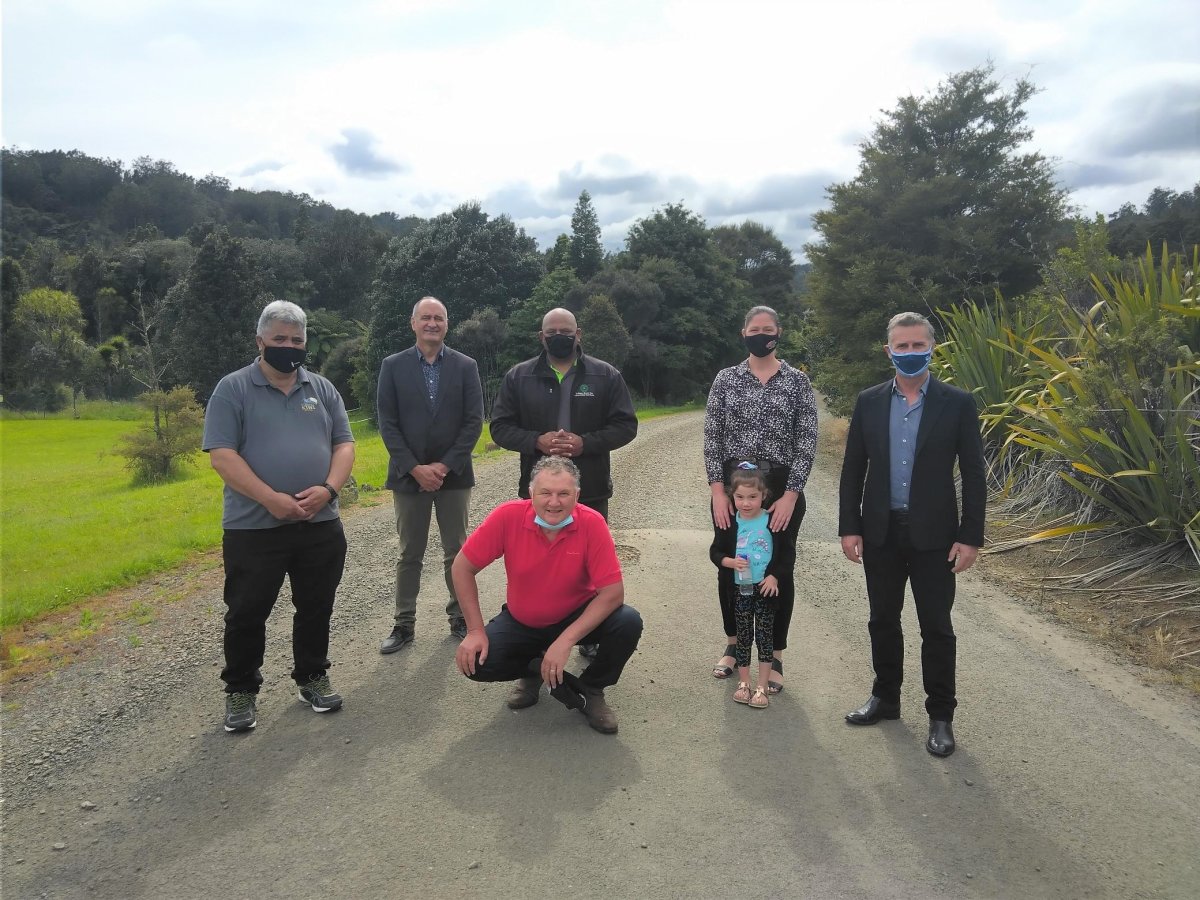 A blessing by Te Roroa marked the start of physical works on Waipoua River Road from left to right: Snow Tane (Te Roroa), Jack Rudolph (KDC), Thomas Hohaia (Te Roroa ), Shane Jones, Willow Jean-Prime (MP for Northland) and daughter, Mayor Dr Jason Smith
Kaipara KickStart
Roads
Joint projects
Waipoua River Road works begin
A blessing undertaken by Te Roroa last week marked the start of physical works on Waipoua River Road.
Engineering consultants WSP have completed detailed design of the traffic signals and sealing, while Fulton Hogan will seal 1.5kms of the Waipoua River Road from State Highway 12 to the Waipoua Visitors Centre and will be working with Te Roroa Environs for some of this work. Currie Electrical will complete most of the traffic signal installation. The works are expected to take three months and planned to be completed in March 2022.
The roading work innovatively involves recycling existing material to create the base for the new sealed surface, with the metal on the existing road being lifted, mixed with lime and placed back on the road.This technique minimises the amount of material that needs to be imported into the forest, reducing the cost of the works and the risk of introducing contaminates such as kauri dieback. While the main objective of using lime is to strengthen the material, due to its high pH it has the added benefit of destroying any kauri dieback spores.
The project is part of Kaipara KickStart, led by Kaipara District Council and supported by PGF funding from Kānoa – Regional Economic Development & Investment Unit.
Related stories
The end of another winter gave us some much-needed sunshine and blue skies. Now with Spring upon us and the days getting longer, our focus moves to pavement works.
Read more