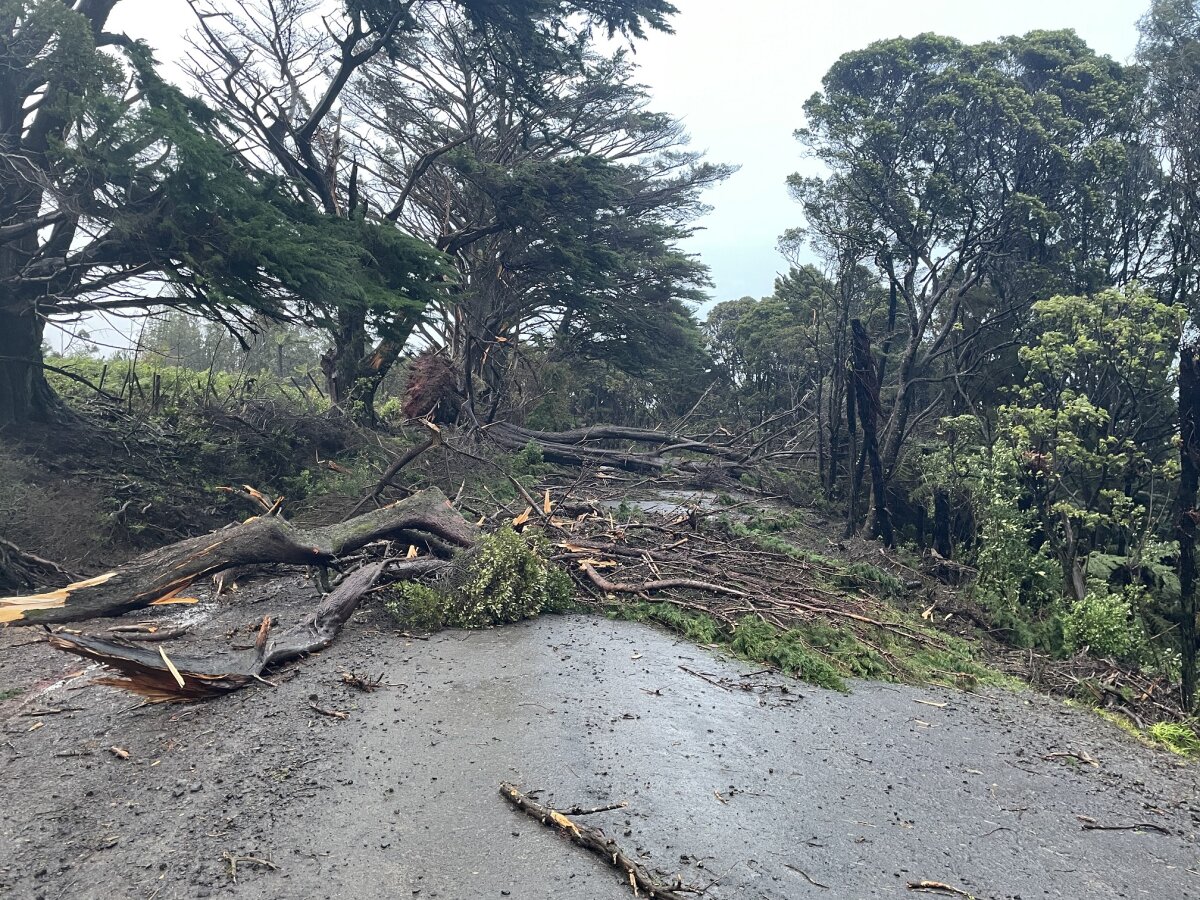 Wild, wet and windy weather kept crews busy in July. A total of 3,358 individual work items were completed throughout the month. Of these items, 2,738 were routine find and fix issues, 170 were cyclic or part of annual rounds, 374 were programmed works, and 76 were callouts or emergency response works.
On sealed roads, 366 potholes were repaired in Dargaville, Baylys Beach, Kaihu, Pukehuia, Raupō, Poutō, Mititai, Tangowahine, Kaiwaka, Mangawhai, Maungaturoto, Pahi, Paparoa, Avoca, Te Kopuru, Glinks Gully, Aratapu, Mamaranui, Omamari, Kirikopuni, Aranga, Donnellys Crossing, Waipoua,
4675 potholes were repaired on unsealed roads in Mt Wesley, Matakohe, Oparakau, Parahi, Ruawai, Naumai, Maungaturoto, Taipuha, Mararetu, Paparoa, Huarau, Kaiwaka, Brynderwyn, Hakuru, Marohemo, Wairere, Mangawhai, Arapohue, Dargaville, Tangiteroria, Kirikopuni, Parore, Tangowahine, Awakino Pt, Ararua, Rehia, Whenuanui.
Footpath renewal and kerb and channel renewal work is happening on Parore Street, Victoria Street and Montgomery Ave in Dargaville.
In drainage maintenance and renewals, 30 culverts were flushed, 467 culverts were cleared, 82 sump grates cleared and 76m of surface water channel was hand cleared.
Signs were straightened, replaced or reinstated in Pukehuia, Te Kopuru, Redhill, Poutō, Dargaville, Aoroa, Topuni, Taipuha, Kaiwaka, Maungaturoto, Paparoa, Hakaru, Mangawhai, Aranga, Katui, Kairara, Waikara, Matakohe and Tokotoko. This includes replacement of seven missing or damaged signs, painting of 126 signposts, 56 signs straightened, 33 dirty signs cleaned and four signs cleared of obscuring vegetation.
Dangerous trees were removed on Findlay Street in Mangawhai, Shirley Road in Rehia, Karaka Road in Avoca, Chadwick Road, Tinopai, Tokatoka Road, Kaiwaka-Mangawhai Road and Whakapirau Road.
Mechanised tree pruning was undertaken in Poutō, Dargaville, Kaihu, Kellys Bay, Mangawhai and Maungaturoto.
In structures maintenance, 27 bridge edge markers were cleaned or replaced and 32 bridge decks or waterways were cleared.
Roadside cyclic spraying was completed in Kaiwaka, Mangawhai, Matakohe, Maungaturoto, Poutō Peninsula, Paparoa, Ruawai and Pukehuia areas.
High intensity rain events saw slips removed or repaired on Grove Road, Cove Road, Oneriri Road, Curnow Road, Avoca East and Avoca North Roads. The wild weather also damaged the entrance way to Mahuta Gap beach and restoration is now underway to ensure safe access.
Storm damage - Pukehuia Road
Related stories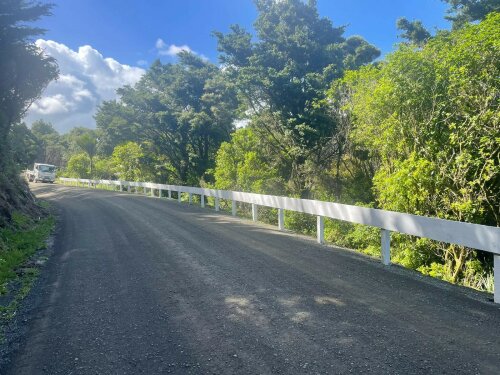 On the final stretch of 2022, the team have been pushing hard to complete outstanding work before the end of the year. Work continues on both the unsealed and sealed networks in anticipation of the summer rush and the expected increase in traffic.
Read more