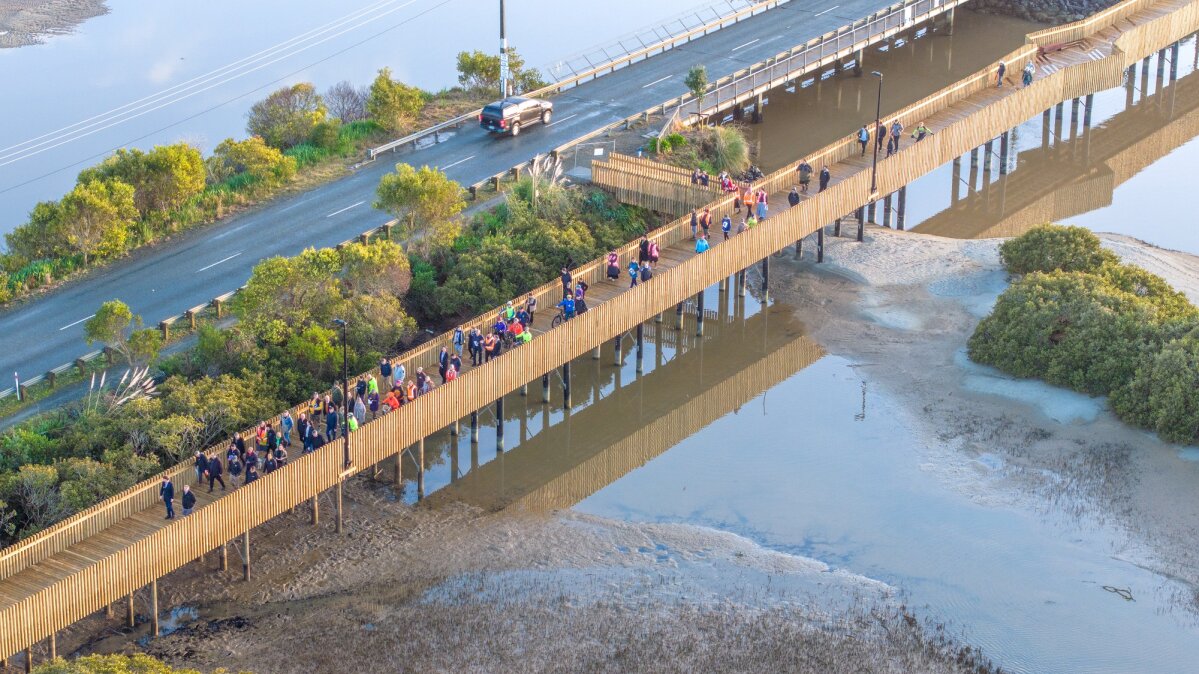 Sunny weather and an incoming tide provided the perfect backdrop to open the Mangawhai boardwalk to a large gathering last week.
The boardwalk is the second phase of the Mangawhai shared path project, connecting the village to the heads, and making it safer and easier to travel by foot, bike, or scooter along busy Molesworth Drive.
Mana whenua representatives Te Uri o Hau led a blessing for the boardwalk, guiding the crowd along as kaumātua performed waerea (karakia clearing the tapu or sacredness) on the new infrastructure. Colin Chitty of the Causeway Church also offered blessings during the event. A ribbon cutting took place at each end.
Photo credit: Elevated Media
A te reo Māori name – Te Ara o Te Whai – has been gifted by Taumata Kaunihera o Te Uri o Hau for this section of the shared path. The name Te Ara o Te Whai has three dimensions or reference points – The pathway of the stingray; the pathway of the Chief; and the pathway of pursuit. The name also extends to encompass the Backbay boardwalk (built by the Mangawhai Trackies).
Photo credit: Elevated Media
Photo credit: Elevated Media
About the Mangawhai shared path project:
Kaipara District Council is building a shared path network to improve safety and connectivity between the two Mangawhai centres.
The shared path project is being completed in stages. Phase one of the shared path was completed in 2022 and includes the sections from ITM down to Estuary Drive, as well as the work in the village (roundabouts and associated streetscaping). Phase Two includes the shared path sections on either side of the causeway, and the boardwalk over the causeway. Phase Three is expected to start October/November 2023 and includes the shared path section from Mangawhai Central to the village and from Mangawhai ITM to Wood Street (this section starting later in 2024).
The project budget for the first two phases of the Mangawhai shared path is $12.8 million, funded with:
$7.954 million Waka Kotahi NZ Transport Agency
$2.4 million from the COVID-19 Response and Recovery Fund – Infrastructure Reference Group (IRG) administered by Kānoa – Regional Development & Investment Unit.
$2.475 million from Kaipara District Council (from development and financial contributions)
Related stories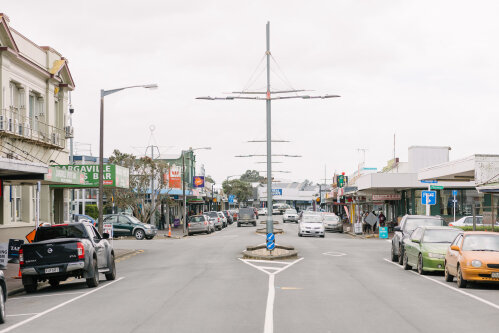 Dargaville residents and visitors are one step closer to easier and safer active transport options after Kaipara District Council's decision to progress the Kaipara Cycle Network Connections project.
Read more