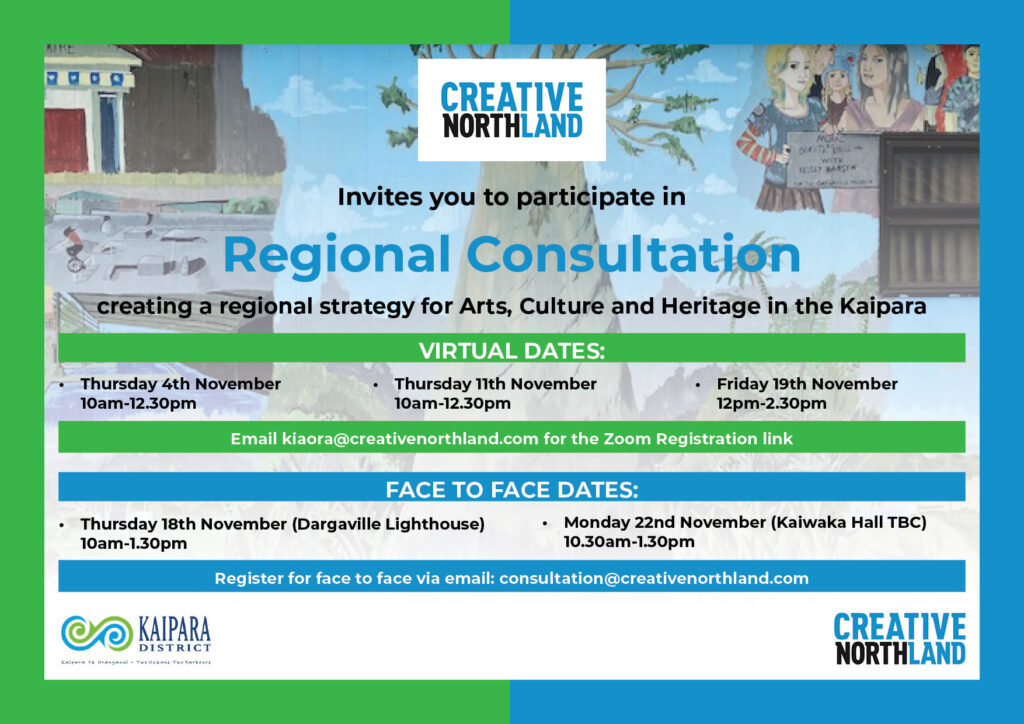 Public consultation begins
Community
Culture
Creating a regional strategy for Arts, Culture and Heritage in the Kaipara
As with the Far North, Creative Northland are also working on behalf of the Kaipara District Council to host public consultation that will inform a 10 year Arts, Culture and Heritage Strategy for the Kaipara.
If you are from the Kaipara area and would like to participate in our consultation meetings we have organised a mix of online and face to face events for the month of November.
More about this Strategy…
The Kaipara District Council recognises that building resilience in the creative and cultural industries amid COVID-19 is integral not only to the local Kaipara economy but also to the cultural wellbeing of our communities.

Looking to 2021 and beyond, the creative industries can – and need to – play a pivotal role in the region's economic future. The central idea is to develop a 10 year Arts, Culture and Heritage Strategy for the district. This will require a collaborative approach across local industry, individual artists and groups, facilities and associated services.

Starting the process…
Creative Northland will start the public consultation process with online Zoom meetings and face to face meetings. We invite you to attend the event most convenient for you. As COVID-19 can impact the way we meet, Creative Northland will start with online consultation via Zoom to ensure these events can safely go ahead and eliminate the barrier of travel. We are hosting two face to face events in Dargaville and Kaiwaka.
The dates/times for online consultation are:
The dates/times for face to face consultation are:
Thursday 18 November 10am-1.30pm - Lighthouse Function Centre, Dargaville - REGISTER HERE
Monday 22 November 10.30am-1.30pm - Kaiwaka Hall (TBC) - REGISTER HERE
For more information please go to the Creative Northland website.
Related stories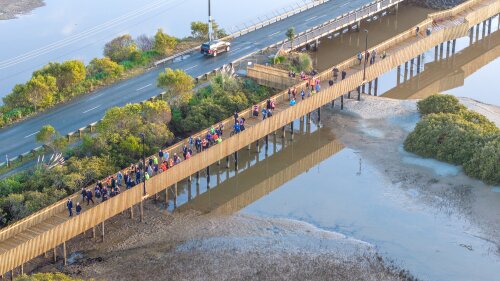 Sunny weather and an incoming tide provided the perfect backdrop to open the Mangawhai boardwalk to a large gathering last week.
The boardwalk is the second phase of the Mangawhai shared path project, connecting the village to the heads, and making it safer and easier to travel by foot, bike, or scooter along busy Molesworth Drive.
Read more