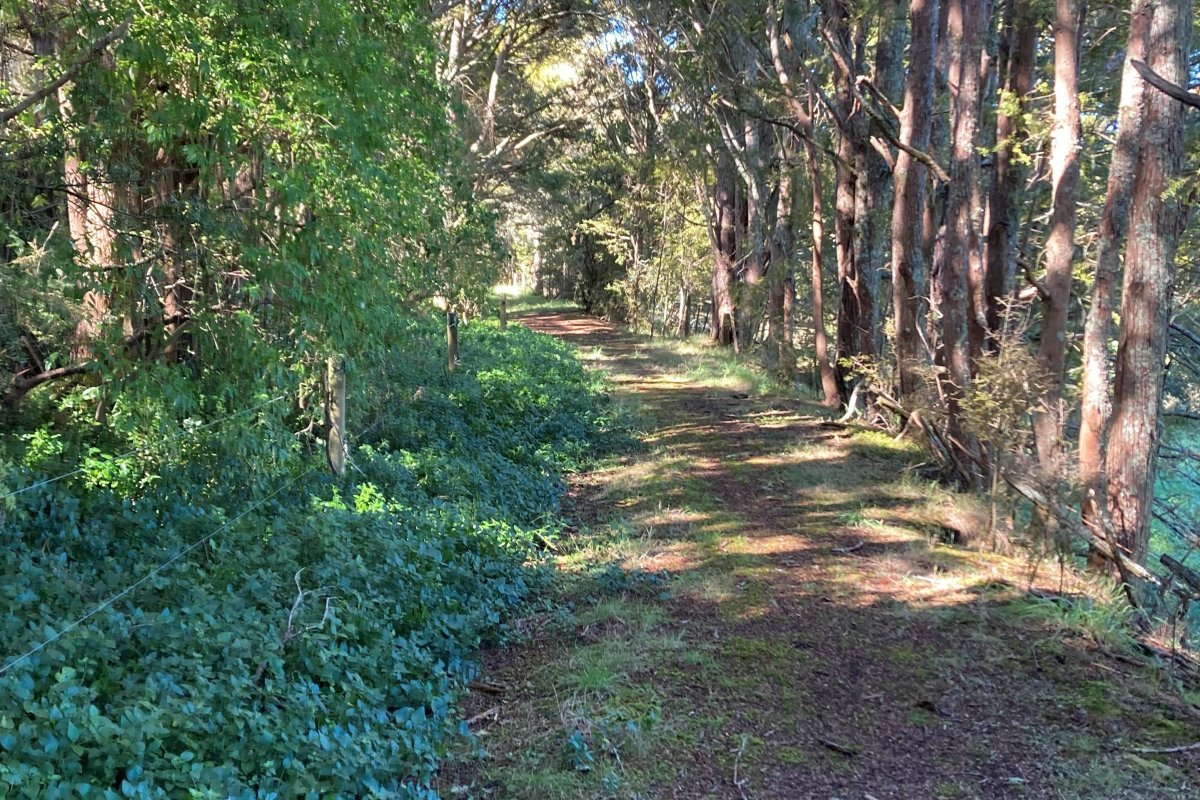 The Kaihu Valley Trail is a 40km walking and biking track being constructed from Dargaville to Donnellys Crossing. It is part of the Ancient Kauri Trail that extends from Omapere to Maungaturoto.
The project is still in the planning and investigation stage and we are awaiting the Archaeology Assessment and the Cultural Impact Assessment research before we can progress further.
Current work
SH12 Crossings - Landowners along KVT have provided feedback about their concerns with the SH crossings. With the tragic accident recently, we agree it is important that we look to provide an off road route for people to use into Dargaville and around their community.
Archaeology report – the Archaeologist has shared with us an insight of the corridor:
"The next visit was a most interesting section, archaeologically (pre-1900) going through land between Waikaraka Marae and Kaihu Station. This includes the early Opanake Station (the old end of the line). Also, the bridgeheads on both sides of the Kaihu River at Ahikiwi and at the end of Station Rd". Watch this space for further updates…
Meetings with Community
Destination Donnellys Crossing
The KVT starts, or finishes, at Donnellys Crossing and we are working with the community to plan an "amazing" destination point. We held our first meeting in May with a great community turn out. The next meeting will be in June to understand what businesses are currently operating in Donnellys Crossing.
Meetings are also being organized in the Kaihu Township, in Mamaranui and in Dargaville.
Spotlight on: KVT providing learning opportunities
An objective in constructing the Kaihu Valley Trail was to provide individual employment and local contract opportunities. Joshua's story is an example of someone who has found employment with a Northland contractor during the research phase of KVT.
Meet Joshua Simmons, Geotechnical Technician (Intern)
Background: I am a fifth-year student studying a Bachelor of Engineering (Hons) and Bachelor of Commerce conjoint at the University of Auckland. My current role at Tonkin + Taylor is working as a geotechnical technician. I am currently studying to gain my qualifications towards becoming a geotechnical engineer.
What my job entails: As a geotechnical technician, my job includes both on site work and office work. When I am out in the field, I carry out a range of geotechnical investigations such as shallow borehole drilling to assess the ground conditions at a particular site. My findings from site can then be analysed back in the office. Engineers review the soil composition and data to implement into design of the foundations and the structure to ensure it is safe and resilient.
Future career goals: I am a very people-orientated person and I love to interact and connect with others. In my future working career, I would love to develop my technical skills to be able to contribute towards complex geotechnical designs, and eventually branch out into areas of project management. It would be an awesome opportunity to help manage and lead some of the biggest projects in New Zealand and abroad.
My experience working on the Kaihu Valley Trail: Working in the regions always presents exciting opportunities as it allows me to take on the challenge associated with different geologies and ground conditions. Although the geotechnical testing that we undertook while working on the Kaihu Valley Trail is similar to elsewhere, the work allowed me to interact with new people, work in a different community, and to learn about the geology in the Kaihu area. Broadening my exposure to new work experiences has helped me grow in my professional career from a technical and soft-skill perspective.
Thanks for sharing this with us Josh. All the best for your Geotechnical Engineer career!

If you have questions about the Kaihu Valley Trail you can contact our Community Engagement Advisor, Amanda Bennett at kaihutrail@kaipara.govt.nz or call 09 439 1206.
Related stories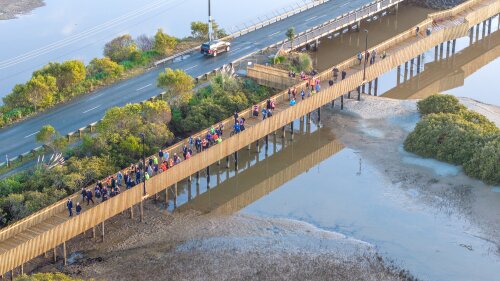 Sunny weather and an incoming tide provided the perfect backdrop to open the Mangawhai boardwalk to a large gathering last week.
The boardwalk is the second phase of the Mangawhai shared path project, connecting the village to the heads, and making it safer and easier to travel by foot, bike, or scooter along busy Molesworth Drive.
Read more