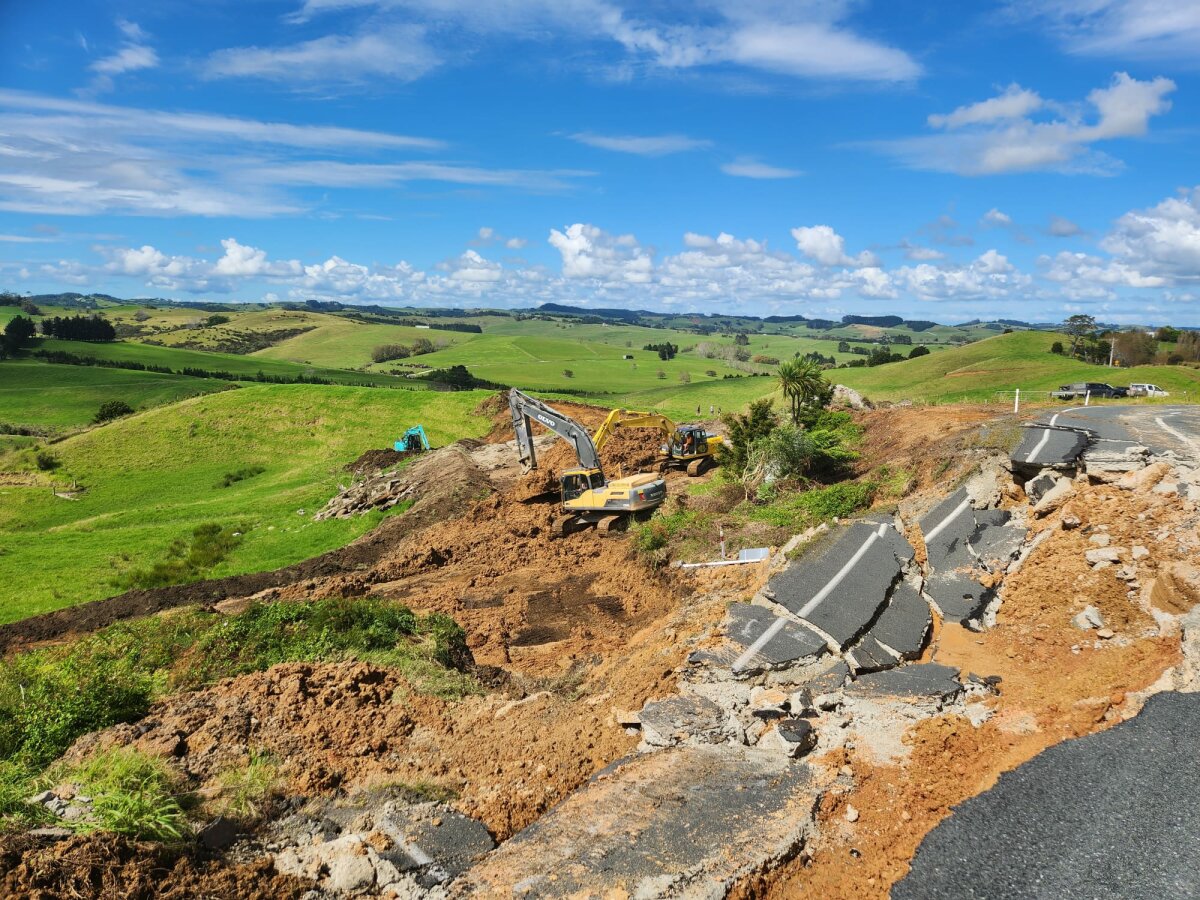 UPDATED: 2.18PM Thursday 02 March 2023
We have now combined roading updates for February's extreme weather events into one article. Read the latest Kaipara roading update.
The only access point into is via Mangawhai Road. We are asking that only local traffic (people who live or work in Mangawhai) and local freight use this route to get in and out of Mangawhai, it is one lane access only. Caution is required.
Please note that Cove Rd from Mangawhai to Waipu is no longer available as a detour route (as it has been) until further notice.
Roads closed
Cove Road. Langs Beach bridge on Cove Road remains closed overnight but will open tomorrow (Wednesday 1 March) following a final safety check. Likely mid-morning. We will post to confirm when it opens. There will still be multiple work sites with traffic management along the length of Cove Road so expect delays - works will continue until the weekend.

This is open for local traffic through to Mangawhai, please don't use this as a route for travelling further south - the remaining work will take longer if there are high traffic volumes.

Cove Road also down to one lane before King Road intersection, due to slip.
Kaiwaka-Mangawhai Road. Closed near Hilltop Road intersection due to large slip near Hilltop Road.
Devich Road is closed at the bridge due to safety risk. Access is available out both ends.
Road down to single lane in places due to slips or drop-out
Mangawhai Road. Open for local traffic and local freight ONLY.
Baldrock Road
Cove Road near King Road intersection
Pebblebrooke Road
Lawrence Road
Sailrock Drive is open to one lane due to flooding.
Roads recently closed now open
Garbolino Road
Tara Road is now open to local traffic only
Valley Road
Settlement Road
Those from outside the region are encouraged to travel to Northland only if essential - any unnecessary travel will delay recovery efforts.
Key electronic mapping platforms e.g. Waze, Google Maps and AA Roadwatch have been updated.
If you need welfare assistance as a result of Cyclone Gabrielle, or the weather event on Friday, please call 09 439 1111.
If you are affected by yesterday's severe weather event in Mangawhai and surrounds, or by Cyclone Gabrielle, you may be able to get an MSD Civil Defence Payment.
You can call MSD direct on 0800 400 100. They're open 7am–5pm Monday to Wednesday, and 8am–5pm Thursday and Friday.
You can find the latest roading update for the Mangawhai area on the
Civil Defence Northland Facebook page.
Related stories
The end of another winter gave us some much-needed sunshine and blue skies. Now with Spring upon us and the days getting longer, our focus moves to pavement works.
Read more