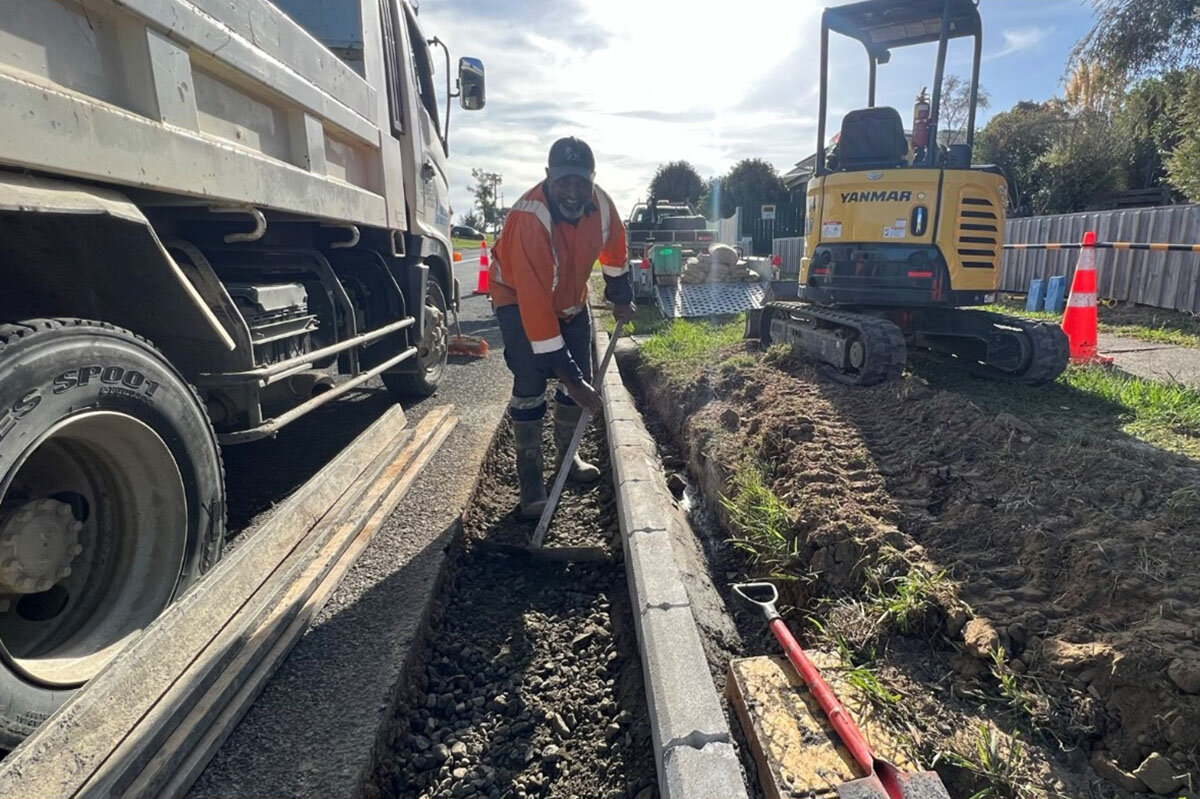 April's relatively calm weather meant that Kaipara's roading team could focus on jobs carrying over from previous months, and complete work on this year's sealed pavement rehabs, unsealed heavy metal sites, and footpath kerb and channel renewals before the wet winter weather sets in.
In routine works, 1,629 potholes on unsealed roads were repaired in Arapohue, Ararua, Baylys Beach, Dargaville, Donnelly's Crossing, Glinks Gully, Kaihu, Kai Iwi Lakes, Kaiwaka, Mamaranui, Mangawhai, Maungaturoto, Oruawharo, Pahi, Paparoa, Pouto, Pukehuia, Ruawai, Rehia, Taipuha, Tangiteroria, Tangowahine, Te Kōpuru, Tokatoka and Waiotira areas. 64.194km of unsealed roads were graded across the district - 0.06% of Kaipara's total unsealed roading network.
On sealed roads, 58 potholes were repaired in Dargaville, Kaiwaka, Mangawhai, Maungaturoto and Tanowahine areas. 5,215.38m2 of pavement defects were stabilised, prepped, and sealed, and 1,447.1m2 of pavement defects were dugout, prepped, and sealed.
In April 37,244m2 of reseals were completed on Bledisloe Street, Domain Road, Porrit Street, Te Kowhai Road, Well Street, and Whakatu Road in Ruawai and on Huarau Road, Te Opi Road, and Whakapirau Road in Whakapirau.
Sweeping and line marking on Murray Road in Tangowahine was completed. The final outstanding work on this sealed rehab is a ball-bank survey to determine if any curve advisory is needed. Sealed rehab work continues on Tangowahine Valley Road, with the existing pavement material hoed with cement to form the new sub-base. A new basecourse material has also been completed. The basecourse material has been stabilised and is now being prepared for sealing.
Drainage and maintenance work included 4,476m of water tables cleaned or restored, 284m of inadequate culverts renewed and realigned, two corrugated metal pipes replaced, six culvert ends cleared, 30 sump gates cleared, and 1,936m of surface water channel hand cleared.
130 signs have been straightened, replaced, and reinstated in Dargaville, Baylys Beach, Glinks Gully, Hakaru, Kaiwaka, Kelly's Bay, Mangawhai, Mareretu, Matakohe, Maungaturoto, Omamari, Omana, Oneriri, Paparoa, Pouto, Ruawai, Taipuha, Tangowahine, Te Kōpuru, Tokatoka, Trounson Park, Waipoua and Whakapirau areas. Another seven signs were cleared of vegetation, and 269 new edgemarkers were installed across the district.
In structures maintenance, 59 bridge edge markers were replaced, and 22 bridge deck or waterways were cleared.
Kerb and channel sweeping has been completed in Dargaville, Baylys Beach and Trounson Park areas. Meanwhile foothpaths and kerb and channels have been renewed on Montgomery Avenue, Portland Street and Plunket Street in Dargaville. This includes 60m of kerb and channel replaced around the school bus turn around on Plunket Street. The replacement includes a new slip form kerb and channel and a brand-new footpath, improving safety for children exiting school buses.
Dangerous trees were removed on Molesworth Drive in Mangawhai, Oneriri Road in Kaiwaka and Tokatoka Road in Ruawai. Mechanised tree pruning was completed on Cassidy, Keay, McConnell, Taipuha Sett and Wothington Roads in Taipuha.


Kerb and channel renewal on Plunket Street in Dargaville. Photo credit: Ventia.
The completed seal rehab on Murray Road in Tangowahine. Photo credit: Ventia.
Heavy metal build up on Oneriri Road in Kaiwaka. Photo credit: Ventia.
Related stories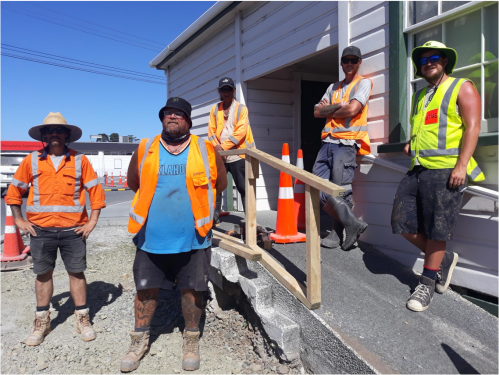 With the border opening there will be increased traffic travelling through both of the worksites. Please remind your visitors ahead of their arrival that these are still active work sites in the lead up to the break – give your friends and family a heads up so they can be prepared for possible travel delays and can plan their journeys accordingly.
Read more