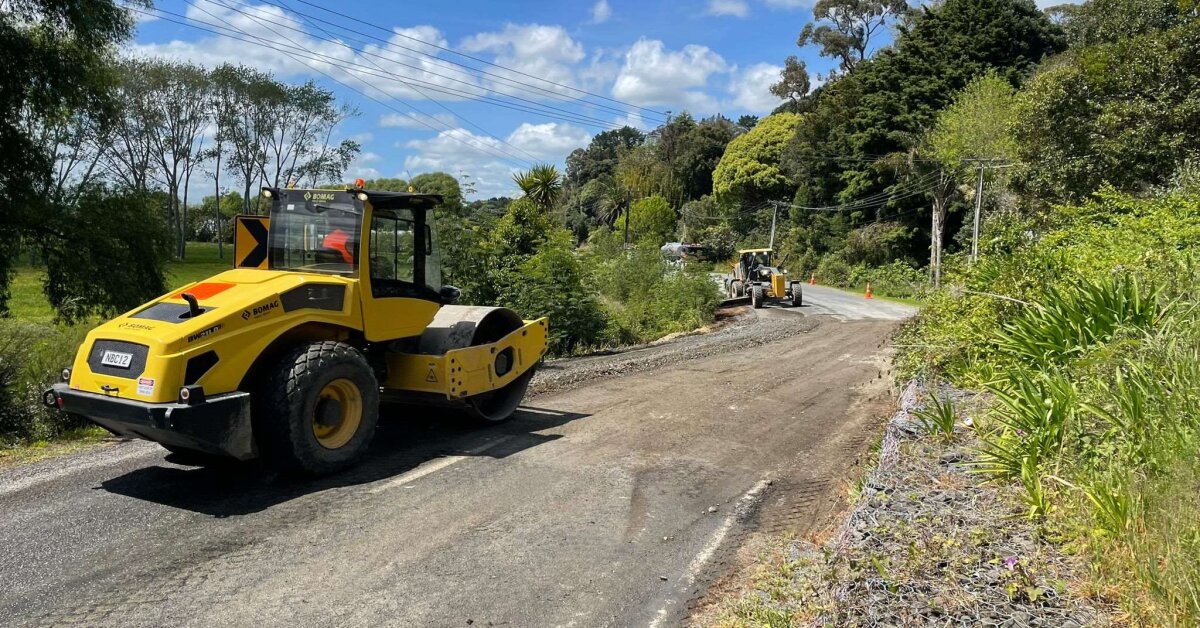 With the continued improvements in weather, we are now full swing into unsealed and sealed pavement works. We have approximately 50kms of road to reseal in the 2022/23 season.
A total of 2,673 individual work items were completed throughout October, of which 1,568 were routine issues, 726 were cyclic and 342 were programed works. There were 37 callouts or emergency response works.
On sealed roads, 696 potholes were repaired in Avoca, Baylys Beach, Dargaville, Hakaru, Kaiwaka, Mangawhai, Maungaturoto, Naumai, Oneriri, Paparoa, Parore, Poutō Peninsula, Tangowahine, Te Kopuru, Whakapirau.
We repaired 1,804 potholes on unsealed roads in Aropohue, Avoca, Bradley's Landing, Dargaville, Huarau, Kaiwaka, Mararetu, Matakohe, Maungatoroto, Naumai, Oneriri Peninsula, Oparakau, Paparoa, Pukehuia, Ruawai, Taipuha, Turiwiri and Wairere.
Maintenance grading was done on Arapohue Road, Babylon Coast Road, Baylys Basin Rd, Franklin Road, Mahuta and Simpkin Road. Approximately 6% (70.47km) of the total unsealed network was graded.
Sealed pavement works saw 5,585m2 of pavement defects stabilised, prepped and sealed and 1,913m2 of defects dugout, prepped and sealed.
In drainage maintenance and renewals, 22 culverts were flushed, 196 culverts were cleared and 46m of surface water channel was hand cleared. We renewed and realigned 157.5m of inadequate culverts and 2,934m of watertable was cleaned or restored.
Signs were straightened, replaced or reinstated in Aoroa, Avoca, Baylys Beach, Dargaville, Huarau, Kaiwaka, Mangawhai, Marohemo, Matakohe, Maungaturoto, Naumai, Otamatea (State Highway 1), Parore, Redhill, Rehia, Ruarangi, Ruawai, Taipuha, Tokatoka and Whenuanui.
Dangerous trees were removed on Pukehuia Road and mechanised tree pruning was done on Pouto Road and Tokatoka Road.
Cyclic Roadside Spraying was completed in Dargaville, Pouto, Pukehuia and Tangowahine areas.
You can check out an overview of roading improvement projects by year and location in a map format on our website.
Watertable restoration – Oneriri Road
Related stories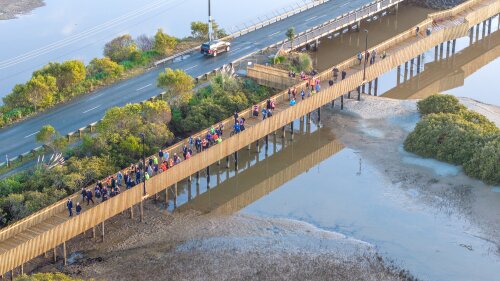 Sunny weather and an incoming tide provided the perfect backdrop to open the Mangawhai boardwalk to a large gathering last week.
The boardwalk is the second phase of the Mangawhai shared path project, connecting the village to the heads, and making it safer and easier to travel by foot, bike, or scooter along busy Molesworth Drive.
Read more