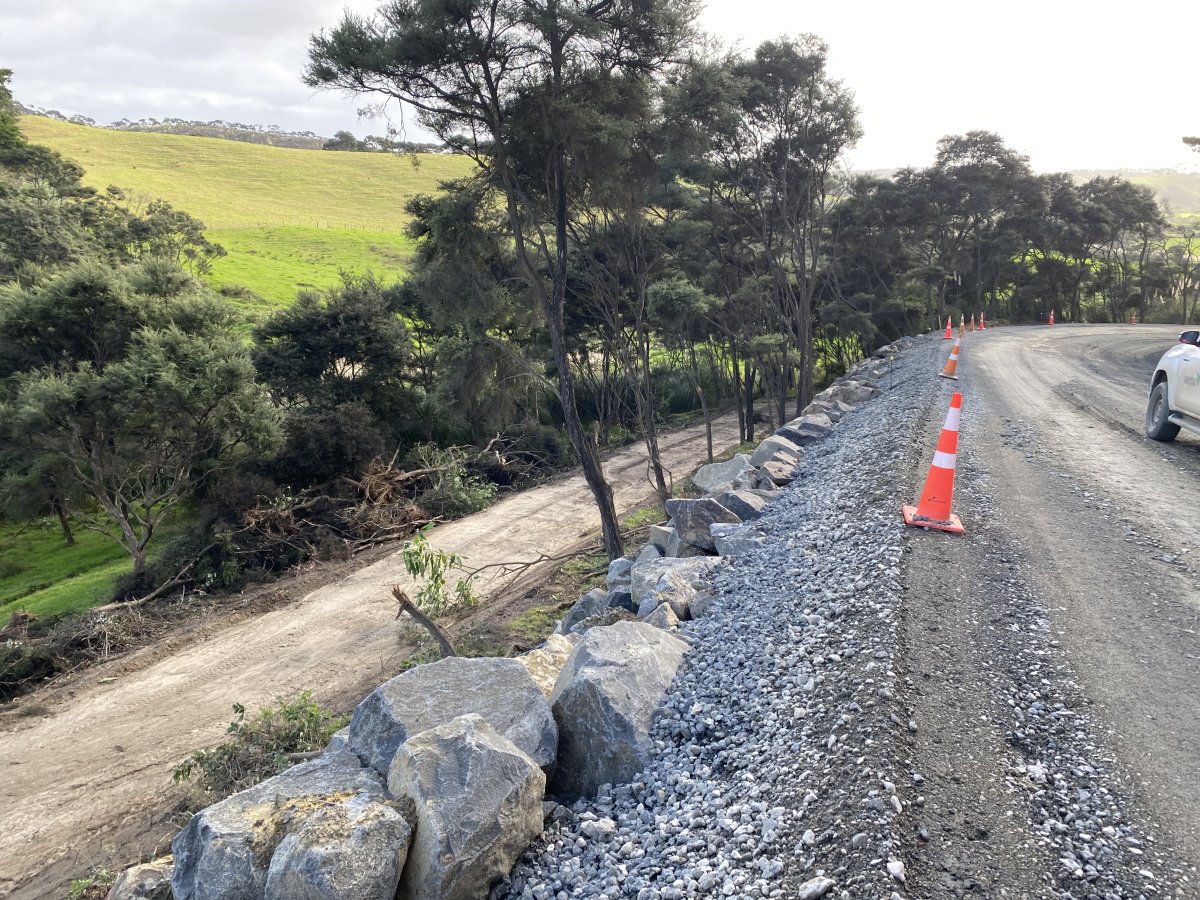 Our contractors Ventia have been busy completing as much as they can in their first construction season.
Kaipara KickStart
Roads
Kaipara KickStart – an update on Pouto Road
Pouto Road Phase Two – What's happening?
Recently Kaipara District Council received official notification that Kānoa – Regional Economic Development & Investment Unit (Kānoa – REDIU) will no longer provide funding to seal Pouto Road Phase Two. Phase Two refers to the last ten or so kilometres of Pouto Road, from Ari Ari Road down to Pouto Point.

This is disappointing news, especially for those who live along the road. Thank you to everyone who was involved in meetings and contributed time and effort to get the business case for Pouto Road Phase Two over the line.

As agreed with Kānoa – REDIU, Council has been granted permission to complete the design work for Phase Two. This means we will be prepared for opportunities to apply for funding from external partners in the future.

Kānoa – REDIU's decision regarding Phase Two has no impact on Pouto Road sealing Phase One. Phase One is the first 10km of Pouto Road, down to Ari Ari Road.

Pouto Road Phase One – What's happening?
Our contractors Ventia have been busy completing as much as they can in their first construction season.

Their work this season has included:
Trimming vegetation and clearing water tables along the route, completing 2,650 cubic metres of earthworks, laying 47 metres of new and extended culverts, installing 570 metres of subsoil drainage and 190 metres of kerb and channel.

The team have also built a large retaining wall – required on the hill near Ari Ari Road, and laid 3,000 cubic metre of aggregate, most of which has also been stabilised. The large rocks used for the retaining wall and the metal on the road has come from Motu Wheteke (also known as Greenhill Quarry). Utilising Motu Wheteke to provide the metal for Pouto Road has seen significant cost savings for the project, and reduced construction traffic coming through Dargaville and Council's wider roading network, minimised nuisance to nearby residents and road users, and mitigated carbon emissions from reduced transportation.

The Ventia team is planning to continue working on Pouto Road for as long as possible through winter, putting the works on hold once the wetter weather sets in. Some sections of the road will be ready to be sealed by the end of this month (July) but it's important to wait for the warmer, dryer, spring/summer months to ensure a good quality finish. Sealing on wet pavement or during cold weather results in poor quality and a shorter lifespan.

Construction works will start up again sometime from September, as soon as weather allows. Before sealing begins, the team will go back and check the road, fixing any areas found to be too soft or wet. The sealing of the road surface is the quickest part of the whole operation and will take approximately two weeks to complete. Once sealed, new signage and markings will complete the project.

The project team is working with local iwi and hapū to ensure kaitiaki (guardians) are regularly onsite to monitor work during construction.

Pending weather and COVID-19 restrictions, Pouto Road sealing Phase One is on track to be completed by the end of the year. We will keep you updated.
About Kaipara Kickstart
Kānoa – Regional Economic Development & Investment Unit, Waka Kotahi NZTA and Kaipara District Council have earmarked funding to invest in Kaipara's economic growth and community wellbeing. The Kaipara KickStart programme consists of interlocking projects. They are; Kaipara Roading, Kaipara Wharves, Kaipara Kai, and Kaipara Water. Further details can be found via kaipara.govt.nz/kickstart
Related stories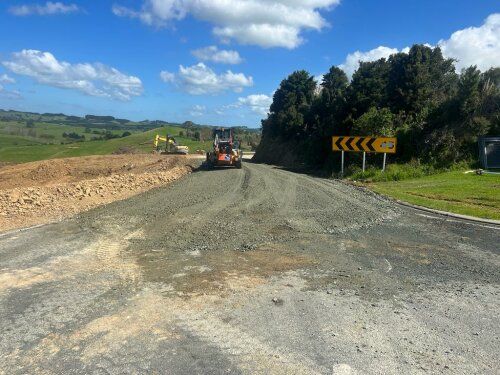 February's extreme weather events have impacted roads across Kaipara. Our roading network has suffered significant long-lasting damage, and many issues will not be a simple fix. If you must travel, please allow extra time, drive with care, and be considerate.
Read more