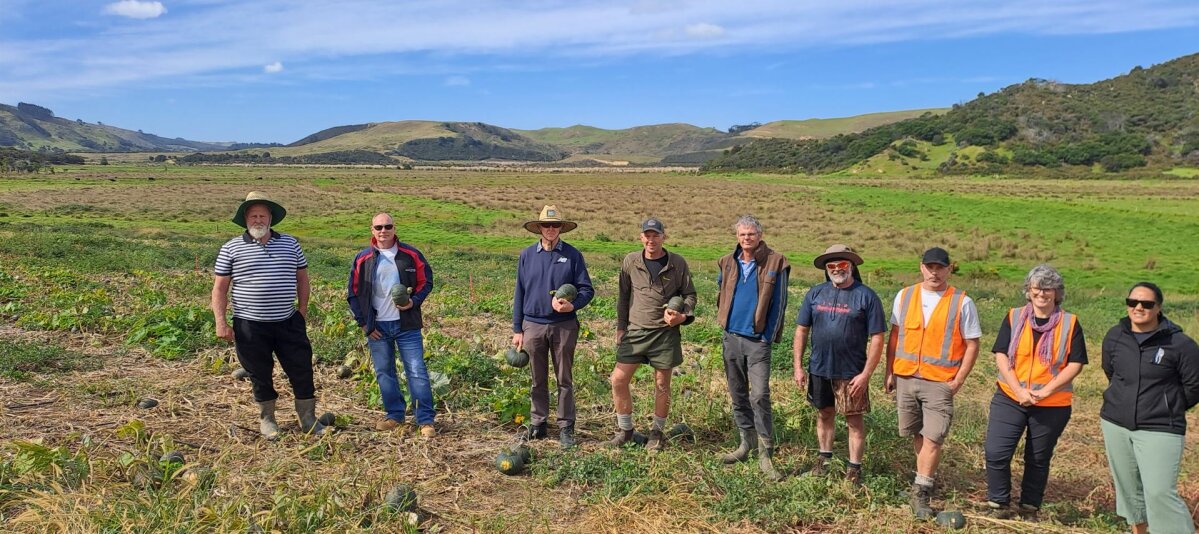 Late last month a warm Kaipara sun shone on a group of farmers and growers keen to hear about a season of growing squash in Maunganui Bluff, north of Dargaville.
The crops of Squash Delica and T-133 (another Kabocha squash) being discussed had been sown in December on Kaipara Water Demonstration Site 1, on a Te Roroa iwi-owned farm. Fifty percent of the demonstration site was irrigated using drip tape, while the other fifty percent of the area went without.
The demonstration site, alongside another site in Te Kopuru is part of Kaipara KickStart, led by Kaipara District Council (KDC) and supported by the government's Kānoa – Regional Economic Development & Investment Unit, with funding from the Provincial Growth Fund. The sites are set up as practical working examples of the ways in which irrigation can support land diversification and higher-value crops. Kaipara District Council has contracted Northland Inc to manage both sites.
Kaipara District Council project manager Curt Martin says the field visit "triggered some good conversations about the different irrigation techniques available."
"It was a really productive visit where we could talk through some of the learnings and outcomes of the season onsite. Discussions were also had around the different crops being grown around Kaipara currently, and we were able to drill down into the potential for squash."
Following the field visit, harvest was carried out by the Te Roroa Taiororua team.
Site Manager Greg Hall says the data coming out of this season's harvest so far was promising.
"We are still reviewing all the data on the Site 1 irrigated areas versus the non-irrigated areas, but the overall estimated harvest yield of the squash onsite is around 6.9 ton across 0.57ha. This equates to 11.97 ton per hectare which is in line with the seed company's 12 ton per hectare recommendation. So based on the early yield data it's been a pretty successful season considering how consistently wet it has been and the fact a number of extreme weather events have also been thrown in there."  
It was these continual wet conditions which meant the site in Te Kopuru was unable to be sown with sunflowers, as had been planned. Machinery to prepare or even plant in the three-month window was not able to operate due to the wet ground. It became too late to plant sunflowers to get them through to maturity before winter.
Find more information on the season and site including monitoring data on the Kaipara KickStart website. A post-season report will be provided in the coming months. All the learnings and outcomes for the demonstration sites across both seasons will made be available online for farmers and growers who may be interested in diversifying their crops.
Harvest from the site has been distributed to a number of community service groups and providers across the district via Te Roroa and Kaipara District Council.
Harvest carried out by Te Roroa Taiororua team.
About squash:
Squash Delica is an adaptable hybrid kabocha squash. The fruit is vine-ripened, sweet and flavourful, maturing 45-50 days after flowering, and hand-picked from December through to June. Kabocha is an Asian variety of squash, sweeter than butternut squash with a firmer, less watery flesh. It has fewer calories than butternut squash, and has an edible rind once cooked. In 2018 there were 24 growers in Aotearoa New Zealand producing 88,179 tonnes on 6642 hectares, returning $58.6 million from exports.
Related stories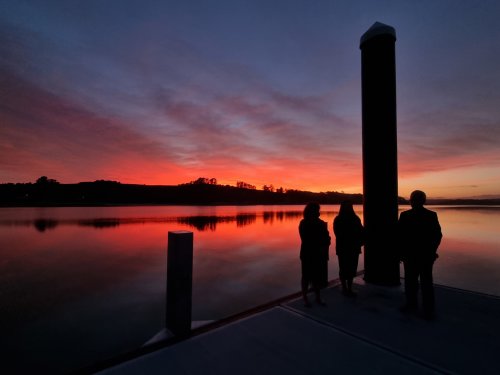 Construction for the Pahi wharf upgrade ended as it began months ago, with the sky lighting up slowly on the people gathered together. Voices joined in karakia and waiata, led by kaumatua Hone Martin and representatives of Te Uri o Hau swirled around the Kaipara harbour as a dawn blessing was performed to open the wharf's gangway and pontoon.
Read more