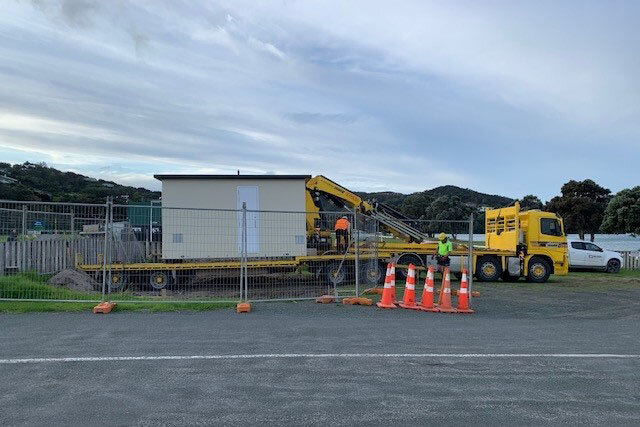 Projects to install new toilets in Mangawhai and Maungaturoto reached milestones recently, as the new facilities were delivered to their sites.
In Mangawhai, the new toilets were delivered to the site at Alamar Crescent, near the boat ramp, on 14 April. The new toilets in Maungaturoto were craned into place beside SH12 before dawn on Wednesday 27 April.
Work is ongoing to connect the new toilets at both sites and construction is scheduled for completion in mid-May, followed by a formal opening for the facilities.
Once completed, the facilities will both feature artwork that celebrates Mangawhai and Maungaturoto's natural environments. In Mangawhai, artist, Thijs de Koning, will complete a mural for the toilets, starting his work in May. Thijs was selected after a call for proposals from experienced artists and his work can be seen at the Mangawhai Activity Zone. Contractor, Permaloo, will wrap the Maungaturoto toilet building with an image by local artist, Richard Moore, featuring a kererū and the Maungaturoto landscape.
Partial funding for the toilets was provided by the Tourism Infrastructure Fund (TIF) administered by the Ministry of Innovation and Employment (MBIE).
Pictured: The new toilet building is craned into place in Maungaturoto.
Related stories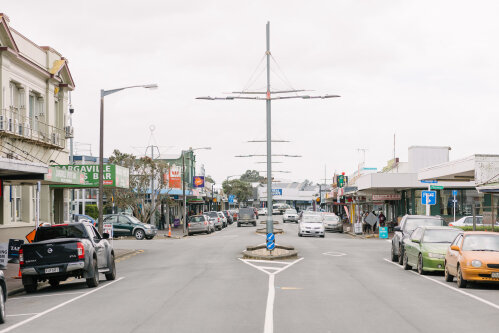 Dargaville residents and visitors are one step closer to easier and safer active transport options after Kaipara District Council's decision to progress the Kaipara Cycle Network Connections project.
Read more