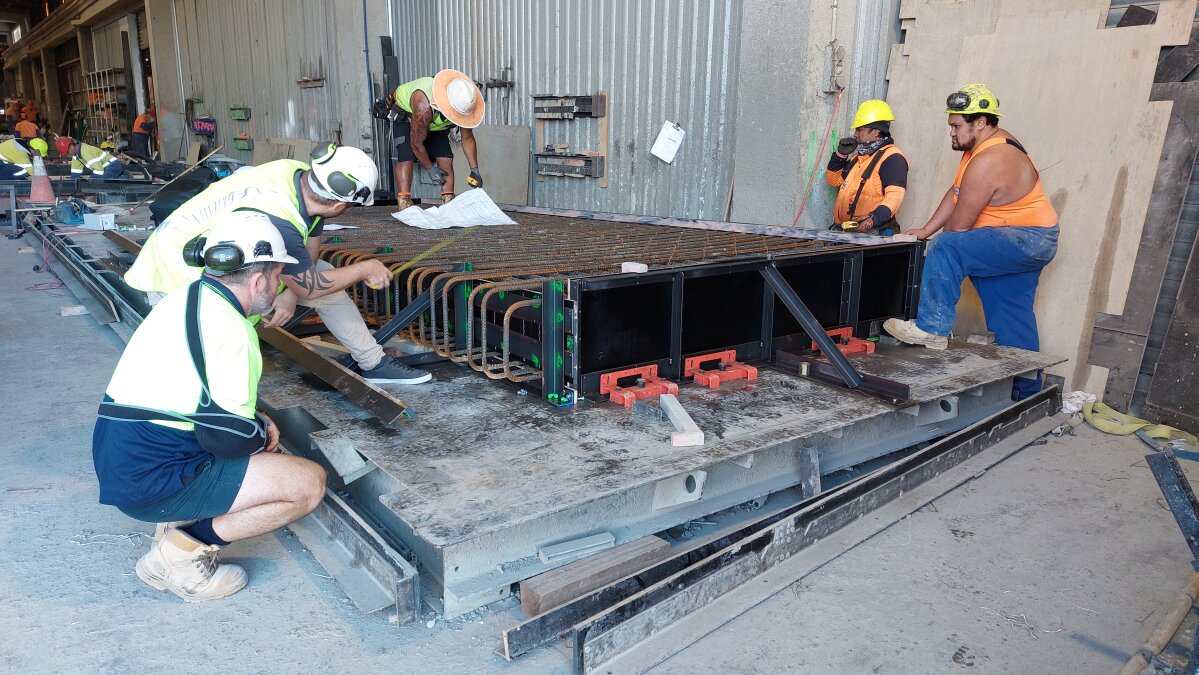 A new balance tank for Mangawhai's wastewater treatment plant is one step closer to completion, with the first pre-cast concrete slabs poured for the tank structure.
The first round of earthworks for the major infrastructure project are also now largely finished, improving the safety and stability of the system when in place. Other recent works include the base pour for a microscrubber – a piece of wastewater treatment equipment that will treat the odour from the new inlet works. The microscrubber replaces a mulch biofilter, freeing up space onsite to allow the balance tank to be constructed. Other supporting infrastructure, including new odour-managing pipework, is also being installed.
Simon Ruddenklau, Kaipara District Council Project Manager for the works, says the balance tank construction is currently tracking to schedule.
"It's great to see the concrete being poured for the pre-cast slabs, which will be transported to the site once complete. The balance tank is a significant project and has taken months of planning to get to this point, so it's really pleasing to see the first stage of the earthworks ticked off the list now, and the balance tank itself starting to take physical shape."
Building the balance tank is part of a draft long term strategy to increase the plant capacity from the current 2400 properties to 5000. The need to implement the infrastructure was identified in Kaipara District Council's Long Term Plan Growing a better Kaipara 2021-2031 and is a key project in KDC's upcoming Annual Plan for 2022-2023.
More connections to the treatment scheme will increase the daily average flow into the system, and also increases peak flows. Most of the time the wastewater treatment plant can handle variations in flow, but there are times during heavy rainfall when peak flows to the plant can become significantly higher. The balance tank buffers the plant inflow, reducing the peak flows into the wastewater plant. The tank can be repurposed as a bioreactor tank when the system is upgraded a few years later.
The cost to construct the $5.112 million balance tank is funded by growth, through development contributions, and partly by current users, though loan and depreciation reserves.
The construction of the balance tank is expected to be completed and operational by January 2023.
Related stories