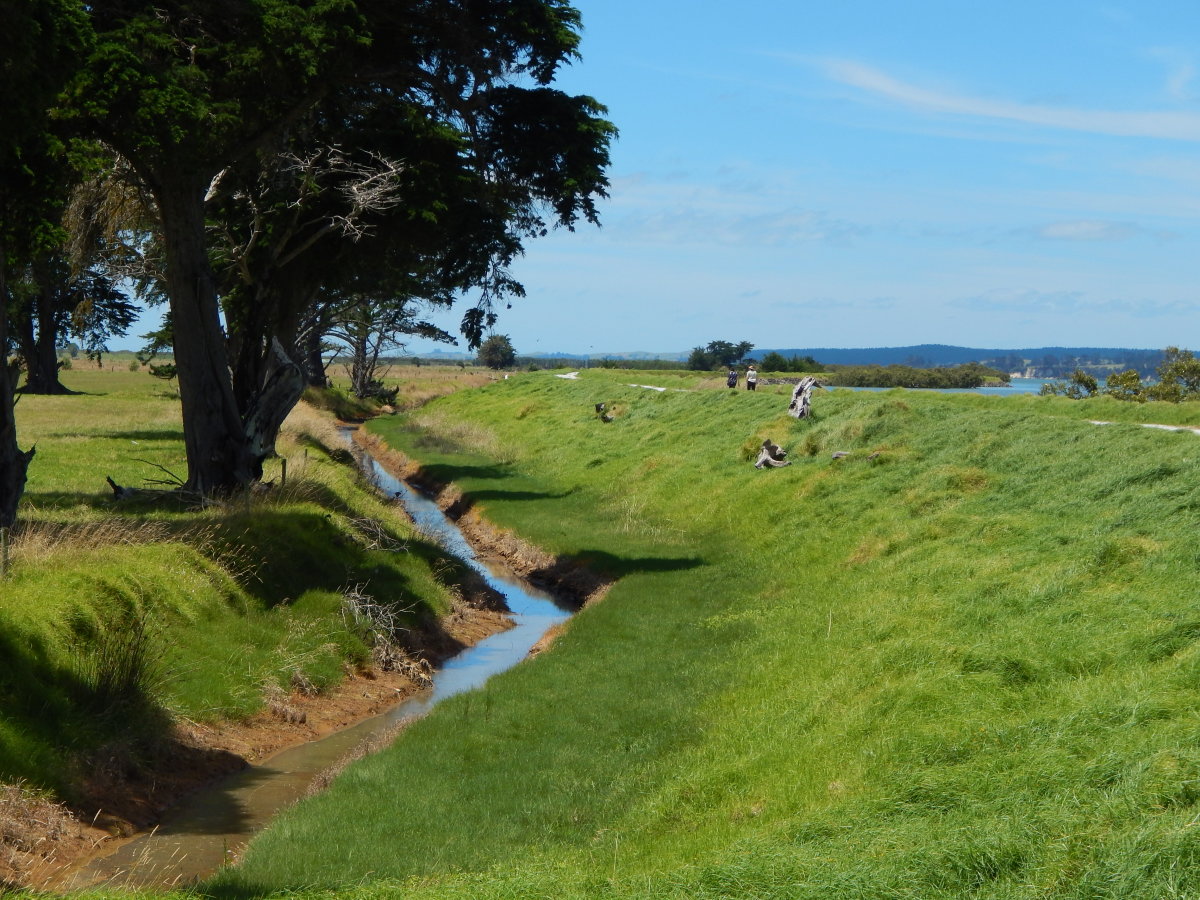 Although recent rain has been welcomed by landowners, it is causing headaches for Kaipara District Council's Raupo stopbank improvement project, in Ruawai.
Originally planned to start last week, works were delayed to avoid potential damage the forecasted heavy rain may cause. Work is now getting underway and the walking and cycling track has been closed between Westlake and Simpson Roads to allow trucks to move freely along the length.
Part of the Raupo District Drainage Plan, the work will widen the stopbank to 5 metres and raise the height to 3.8 metres above mean sea level down a 350 metre length. The improvements are a continuation of work carried out in previous years, which improved the stopbank between the Simpson Road entrance to the Wilson Landing Road entrance. This year we will complete the last section to improve the resilience of the area by reducing the risk of flooding.
The work will see the kikuyu grass covering the sides of the bank rolled off, then reinstated after the bank is shaped and finished. The grass is resilient and grows back quickly to help stabilize the bank sides.
After stripping the grass, trucks will bring in limestone to build the bank up. The material will be carted in by truck, with diggers operating on site to shape the bank. Tractors and rollers will help compact the fill. After the bank is at the required height, the vegetation will be but back in place and a layer of crushed limestone put along the top, reinstating the walking trail. The trail will be rolled, then need time to weather and settle.
Subject to weather, work is expected to take around two weeks and that part of the trail will be closed for the duration.
Related stories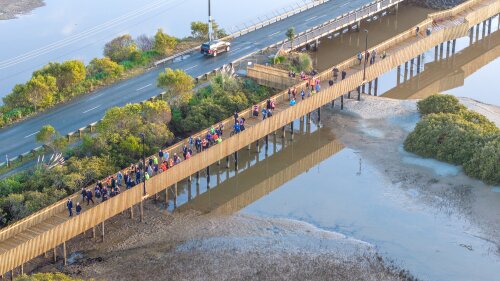 Sunny weather and an incoming tide provided the perfect backdrop to open the Mangawhai boardwalk to a large gathering last week.
The boardwalk is the second phase of the Mangawhai shared path project, connecting the village to the heads, and making it safer and easier to travel by foot, bike, or scooter along busy Molesworth Drive.
Read more