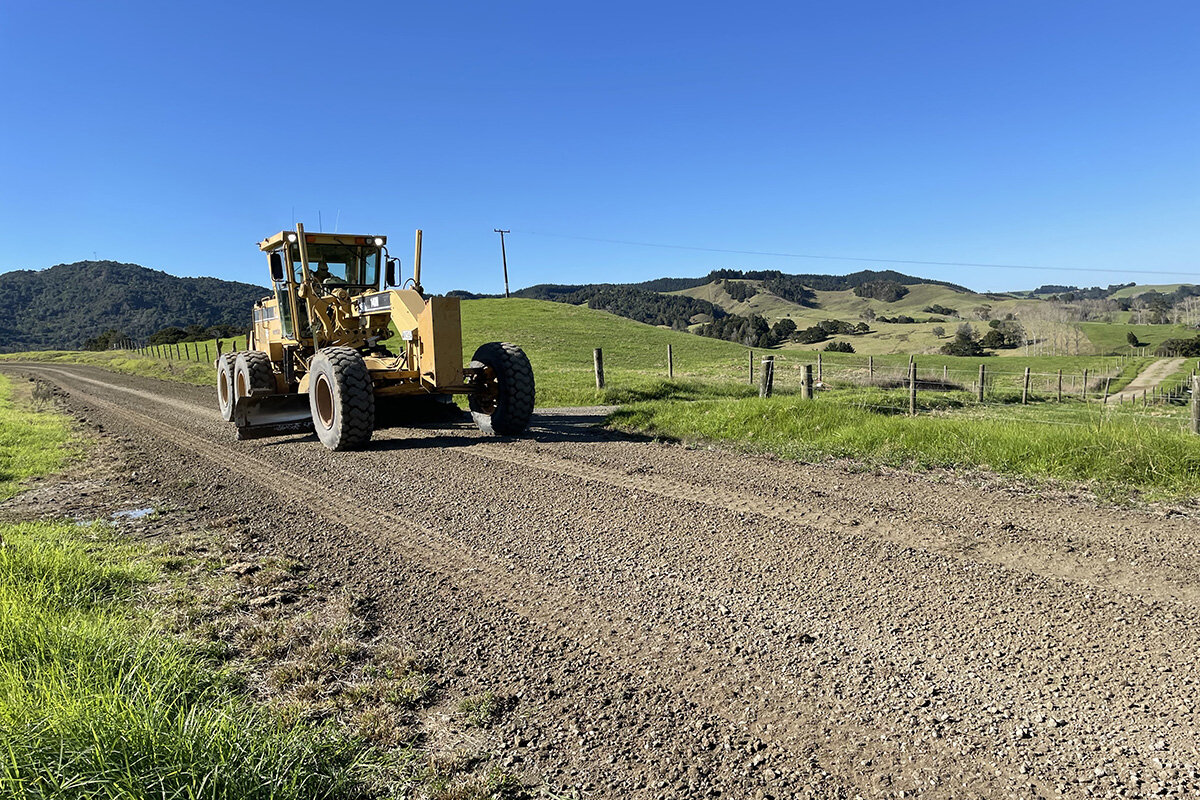 In May, we saw some great progress happening across the district. Sealed pavement rehabs are now complete, and the unsealed network has received the last of the PGF/IRG funding. With this work finishing, we've had more hands on deck to complete maintenance activities such as culvert clearing and edge marker post cleaning ahead of winter.
On sealed roads, 77 potholes were repaired in Ararua, Dargaville, Kaiwaka, Mangawhai, Pouto, Ruawai, Tangowahine, and Tinopai areas.
On unsealed roads, 311 km of roads were graded, and 4,433 potholes were repaired in Arapohue, Ararua, Aratapu, Dargaville, Hakaru, Kaiwaka, Mangawhai Heads, Matakohe, Maungaturoto, Omamari, Oruawharo, Paparoa, Ruawai, Taipuha, Tangiteroria, Tangowahine, Tinopai, Turiwiri, Waihue, and Whakapirau areas.
A dedicated culvert crew has been working their way around the network with contractor, Hydrotech who are completing culvert flushing. Culverts were cleared on Babylon Coast and Waihue Roads in Dargaville, Cove Road in Mangawhai, Doctors Hill Road in Maungaturoto, Girls High School and Omana Roads in Omana, Hoyle, Mititai, Waller Roads and Whakahara Roads in Arapohue, Inch Road in Ruawai, Pukehuia Road in Tangiteroria, and Te Maire Road in Te Kopuru.
Sealed pavement rehabilitation work was completed on Tangowahine Valley Road, the last of this seasons rehabs.
Signs were straightened, replaced, or reinstated in Dargaville, Hakaru, Mangawhai, Paparoa, Pouto, Ruawai, Te Kopuru, and Whakapirau areas – this includes 6 damaged or missing signs replaced, 42 signs straightened, and 3 signs cleared of vegetation. Across the district, 280 new edge markers were installed.
In structures maintenance, 31 bridge edge markers were cleaned or replaced, 5 bridge decks or waterways were cleared and 5 bridges were cleared of vegetation.
Kerb and channel renewal work completed on Logan Street, Montogomery Avenue, Parore Street, and Selwyn Park in Dargaville. Footpath renewal work was completed on Logan Street and in Selwyn Park in Dargaville.
Mechanised tree pruning was done on Bee Bush and Webb Roads in Arapohue, Mason Road in Otamatea Surrounds, and on Arcadia and Paparoa Oakleigh Roads in Paparoa.
Cesspit cleaning completed in Dargaville and Mangawhai.
Photo caption: Culvert clearing on Babylon Coast Road in Dargaville. Photo credit – Ventia.
Photo caption: Mechanised tree pruning clean up on Paparoa-Oakleigh Road. Photo credit – Ventia.
Related stories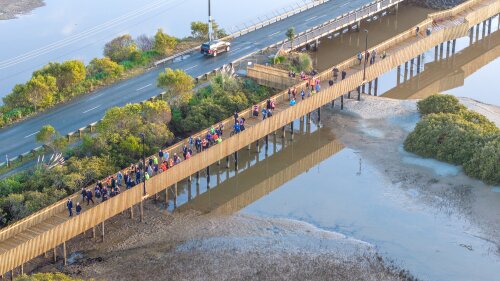 Sunny weather and an incoming tide provided the perfect backdrop to open the Mangawhai boardwalk to a large gathering last week.
The boardwalk is the second phase of the Mangawhai shared path project, connecting the village to the heads, and making it safer and easier to travel by foot, bike, or scooter along busy Molesworth Drive.
Read more