Dargaville Library is encouraging customers to stock up with books and DVD during May before the library is closed temporarily for a freshen-up from 5pm Friday 28 May, reopening Tuesday 15 June.
Lisa Salter, Kaipara Libraries Manager, says they are rearranging some of the facilities to make better use of the space they have.
"We're moving large print and audiobooks to a quieter space so people will be able to browse better. The public computers will be relocated to be closer to the counter so the team can help customers if they need it. Shelving will be improved and we're installing more CCTV," says Ms Salter.
The library will also be recarpeted, and some fittings moved, which means books will have to be boxed and shelves taken down and re-assembled. The library will be closed for just over two weeks while the work is being done.
"The changes we are making are all quite small, but we think they will make a big difference for library users."
Council's Civic Building Strategy, which has just been out for public consultation as part of the Long Term Plan, includes an option for Dargaville Library to become part of a new civic hub at Dargaville Town Hall. This proposal, if approved, would be a number of years away and the current changes are a stop-gap measure to maintain the current library building and services.
Related stories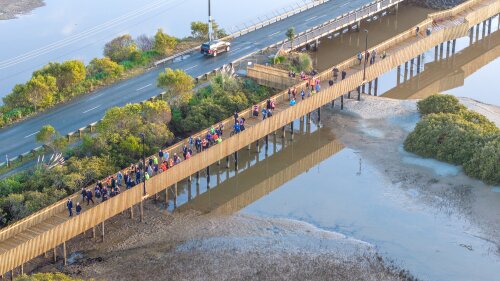 Sunny weather and an incoming tide provided the perfect backdrop to open the Mangawhai boardwalk to a large gathering last week.
The boardwalk is the second phase of the Mangawhai shared path project, connecting the village to the heads, and making it safer and easier to travel by foot, bike, or scooter along busy Molesworth Drive.
Read more