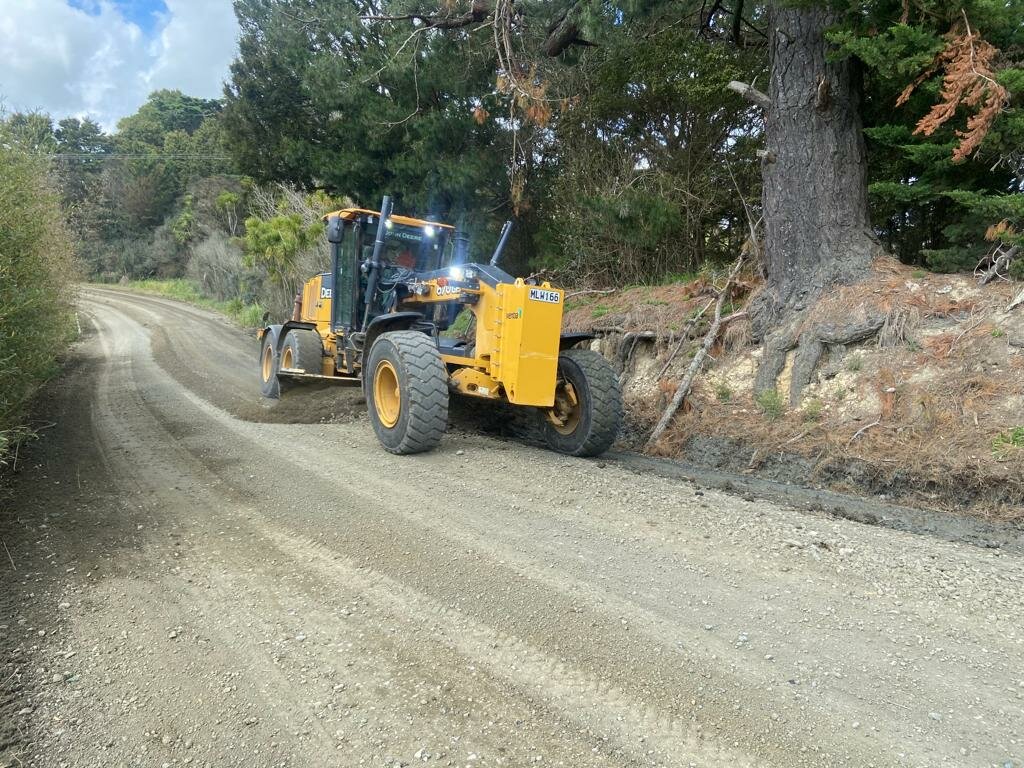 Our roading team made the most of the warmer, drier weather that came our way in September.
A total of 3,458 individual work items were completed, of which 2,292 were routine issues, 736 were cyclic and 292 were programed works. There were 33 callouts or emergency response works. Approximately 12% (135.6km) of unsealed roads were graded this month.
On sealed roads, 274 potholes were repaired in Aoroa, Avoca, Dargaville, Donnelly's Crossing, Huarau, Hukatere, Kaiwaka, Mamaranui, Mangawhai, Marohemo, Matakohe, Maungatūroto, Mititai, Pahi, Paparoa, Poutō Peninsula, Pukehuia, Ruawai, Tinopai Peninsula, Waihue and Whakapirau.
On unsealed roads, 4,343 potholes were repaired. Repairs were made in Arapohue, Ararua, Aratapu, Avoca, Bradley's Landing, Donnelly's Crossing, Hakaru, Huarau, Hukatere, Kaihu, Kairara, Kaiwaka, Kellys Bay, Kirikopuni, Mahuta, Mangatū, Matakohe, Mitaitai, Tutamoe, Waipoua, Topuni, Omana, Oruawharo, Pahi, Paparoa, Poutō, Ruawai, Taipuha, Tangowahine, Tanoa, Te Kopuru, Tinopai, Tinopai Peninsula, Tokatoka and Waihue.
In drainage maintenance and renewals, 14 culverts were flushed, 261 culverts were cleared, 1 sump grate cleared and 10m of surface water channel was hand cleared. We cleaned or restored 1,473m of water table and renewed or realigned 300m of culverts.
Signs were straightened, replaced or reinstated in Redhill, Aoroa, Aranga, Arapohue, Ararua, Avoca, Baylys Beach, Dargaville, Donnellys Crossing, Glinks Gully, Hakaru, Hukatere, Kaihu, Kelly's Bay, Mamaranui, Mangawhai, Marehemo, Maungatūroto, Mititai, Omamari, Oneriri Peninsula, Paparoa, Parore, Poutō Peninsula, Pukehuia, Ruawai, Tutamoe and Turiwiri.
In structures maintenance 36 bridge edge markers were cleaned or replaced and 54 bridge decks or waterways were cleared.
Footpaths were renewed in Dargaville and cyclic roadside spraying took place in Dargaville and Mangawhai areas.
Mechanised tree pruning was done on Devich Road, Guy Road, Kelly's Bay Road, Poutō Road and Rototuna Road.
The drier weather in September gave us a good head start on pre-reseal repairs, ahead of this year's planned reseals.
The first round of annual kerb and channel sweeping is now underway. We'll be sweeping approximately 102km of kerb and channel across the district in October, a welcome clean up after the wet winter.
You can check out an overview of roading improvement projects in a map format on our website.
Cove Road bridge.
Related stories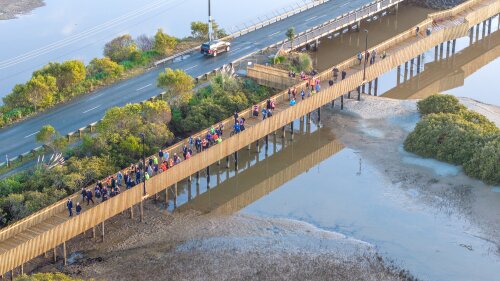 Sunny weather and an incoming tide provided the perfect backdrop to open the Mangawhai boardwalk to a large gathering last week.
The boardwalk is the second phase of the Mangawhai shared path project, connecting the village to the heads, and making it safer and easier to travel by foot, bike, or scooter along busy Molesworth Drive.
Read more