Pahi wharf design includes a new gangway and pontoon, as well as repair and replacements on parts of the current timber structure
Kaipara KickStart
Pahi
Pahi wharf upgrade begins later this month
Construction to upgrade the Pahi wharf is set to start later this month.
Works for the Pahi wharf was scheduled to begin earlier in the year, but procurement delayed the construction start.
After adaptions to the design by the project team, two contracts have now been awarded. The carpentry contract has been awarded to Huband Contractors, a local team based in Paparoa. They will begin the carpentry work later this month – repairing and replacing parts of the timber structure of the wharf.
Bellingham Marine, who constructed the Dargaville pontoon last year, will build the gangway and new pontoon. Much of the work for this will be completed offsite at their Auckland ship-yard, with parts like the pre-cast concrete pontoon travelling north via boat and assembled onsite.
Jagdeep Singh, Project Manager for Kaipara Wharves is looking forward to the construction work starting and delivering the Pahi wharf to the community.
"We're happy to have successfully worked through the delays to the procurement and have two contractors on board now. It's great that one of those is a local outfit – Huband Contractors, completing all the carpentry work on the wharf."
The Pahi wharf work includes upgrading the current wharf and a new gangway and pontoon. It will allow the wharf to better cater for a wider range of boats at all tide levels, including passenger ferries, oyster boats and charter operations, as well as recreational vehicles. The construction start date will depend on any COVID-19 restrictions that may be in place. Work onsite is expected to take up to twelve weeks and be complete by December 2021.
The Kaipara Wharves project, which includes a new wharf at Pouto and the Dargaville pontoon as well as the Pahi wharf upgrade, has received $4.95million in PGF funding from Kānoa – Regional Economic Development & Investment Unit.
Alongside Kaipara Roads, Kai and Water, Kaipara Wharves is part of the greater Kaipara KickStart programme of works led by Kaipara District Council to grow the district's economy and increase community wellbeing.
You can read the final Kaipara Wharves Feasibility Study and Programme Business Case which was approved and finalised in 2020 on the KickStart website.
Related stories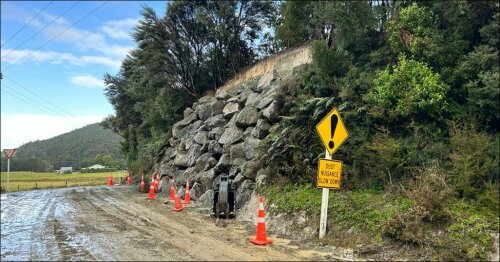 The rainy weather persisted through July, resulting in 949 new pothole reports. To tackle the pothole issue, we introduced an additional pothole truck to speed up repairs.
Read more