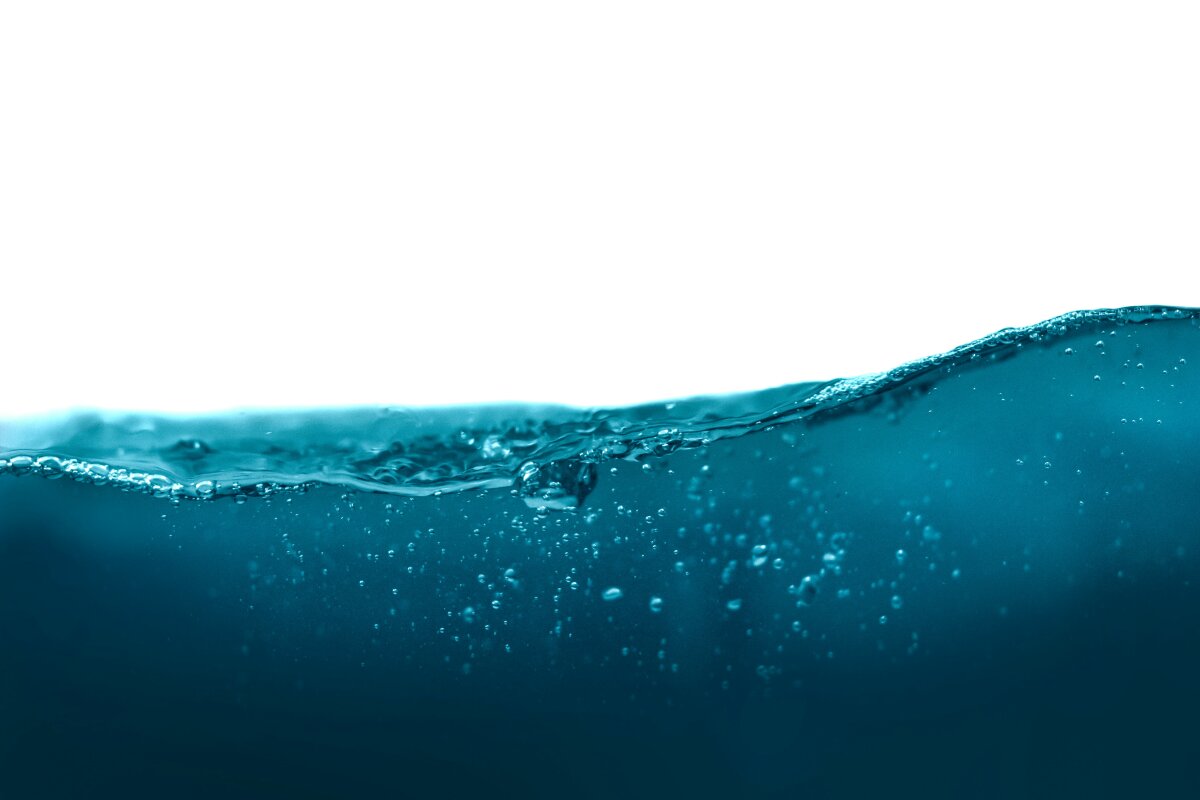 Government sources estimate that between $120 and $185 billion dollars of investment in three waters (drinking water, waste water and storm water) infrastructure will be needed over the next 30 years to improve the quality of our drinking water and wastewater and stormwater management, across New Zealand.1
Councils generally support the need for New Zealand to reform the way it manages the three waters.2
Why do we need reform
Investment in infrastructure is costly and difficult for Councils, which means some of New Zealand's drinking water is not safe at times, and untreated wastewater has spilled into our environment.
In 2016 Havelock North's drinking water was affected by major campylobacter contamination. As a result, an estimated 5,500 residents became ill, and four people died. The economic cost of the outbreak is estimated at $21 million.1
In 2020/2021, 40,000 Kiwis had to boil their tap water, (27 permanent, 56 temporary water notices).1
In 2020, New Zealand's wastewater systems overflowed or blocked more than 3,000 times.2
Every year, 34,000 New Zealanders get sick from water that does not meet NZ standards.3
In 2019 almost a quarter of wastewater treatment plants were operating on expired consents.1
And every year, 35,000 New Zealanders get sick from water that doesn't meet international standards for clean drinking water2.
Water non-compliance per % of population 2020/21
Investing in infrastructure
KDC's Commissioners started partially funding depreciation. Over the last year KDC has fully funded depreciation for waters infrastructure, except for the Mangawhai wastewater scheme, which will be fully funded by 2025.4
The Government study found most councils are not investing enough in infrastructure. They are not depreciating assets properly, which means they will not be able to afford to replace pipes and other infrastructure as they age. Many councils do not have good information about the state and performance of their three waters networks.1
Underground pipes have a life expectancy of around 60 - 80 years.
Several Kaipara settlements were established in the 1950s and 1960s and we are monitoring the state of the three water assets.
New Zealand settlements that boomed in the 1950s and 1960s have pipes that are nearing the end of life. Those councils must replace pipes as they age or repair them if they fail, which disrupts services and costs much more.
The Government's projected water costs
Currently, Kaipara's average household three water costs are $2,360 per annum.
Without reform the annual household cost of three waters for our community is expected to reach $8,690 by 2051. With reform, the average household water cost is expected to be $800 by 205110.
Small districts, like Kaipara will benefit if the cost of infrastructure is spread over a greater number of people.
Over the next 30 years New Zealand will need to spend $120 - $185 billion to maintain and upgrade infrastructure.
Without reform the average household rate for all New Zealand is expected to be $1,900 - $9,000 per year by 2051.
With reform, the average household rate for all New Zealand is expected to be $800 - $1,640 by 2051.1
This is possible through a combination of factors, including:
Using economies of scale in procurement and other specialist functions
greater capacity to invest
appointing highly skilled board members and staff
spreading the cost of investment over a greater number of people.
What reform will achieve
Reforming our water management will enable us to:
Meet health, environmental and cultural needs
Adapt to climate change and build resilience to natural hazards
Respond to growth, housing and urban development
Maintain and upgrade ageing infrastructure
Operate within a constrained budget and workforce2.
New regulations and monitoring
Currently, Kaipara's drinking water supply meets the new standards.
A new entity, called Taumata Arowai, has been established to regulate and monitor the quality of drinking water. Taumata Arowai has consulted on new, more stringent, Standards and Rules that are for monitoring and quality assurance. These came into effect on 14 November and Taumata Arowai requires suppliers to meet those standards. At present many Councils and private suppliers do not meet those standards. With Regional Councils, Taumata Arowai will also monitor compliance with environmental regulations at a national level to improve performance of wastewater and stormwater networks.
An economic regulator will also be introduced, which will ensure it is no longer possible to under-invest, or to charge consumers too much or to deliver poor quality service.
Overview of roles and responsibilities in the Three Waters System
Proposed changes to water service delivery
Four new water entities will be established to deliver water services. Kaipara will become part of Entity A, which includes Northland and Auckland.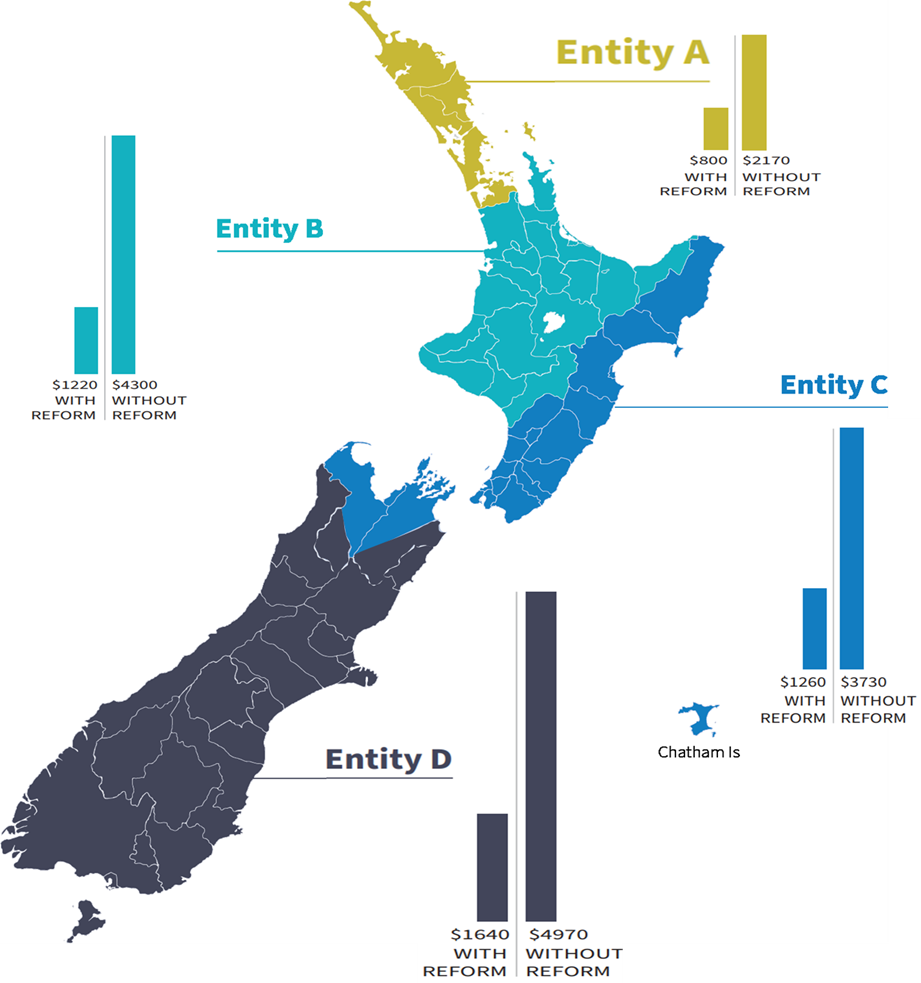 Click image to enlarge
Each entity contains one major population area, to achieve economies of scale and reduce the cost of water management for the smaller areas. Their scale would create operational efficiencies, and they will have more purchasing power than smaller individual councils. They will be able to complete multiple projects at the same time.
Ownership
Kaipara will have one of 40 shares in Entity A11.
Councils within the area would collectively own the water assets and service on behalf of the communities. Councils will have shares in the new entity, at the rate of one share per 50,000 people. Each council will have at least one share.
Shares cannot be sold or transferred, which protects the assets from being privatised1.
Kaipara has approximately $50 million of internal debt associated with our three waters assets.
The three water assets and the debt associated with them will be transferred to the new entity. Entities will be able to set rates for water services and borrow against the assets to fund development.
The government has said they intend to fund debt repayments, so councils won't be left carrying the cost of the debt. They are still determining how that may work.
Governance
Entities would be governed by independent, competency-based boards. Boards will be appointed by a Regional Representative Group, based on their skills, knowledge, and experience.
Councils and Mana whenua will form part of the Regional Representative Group that will appoint members of the Water Service Entity Board, based on their skills. The number of votes the Council gets to vote for the Board is proportional to their shares.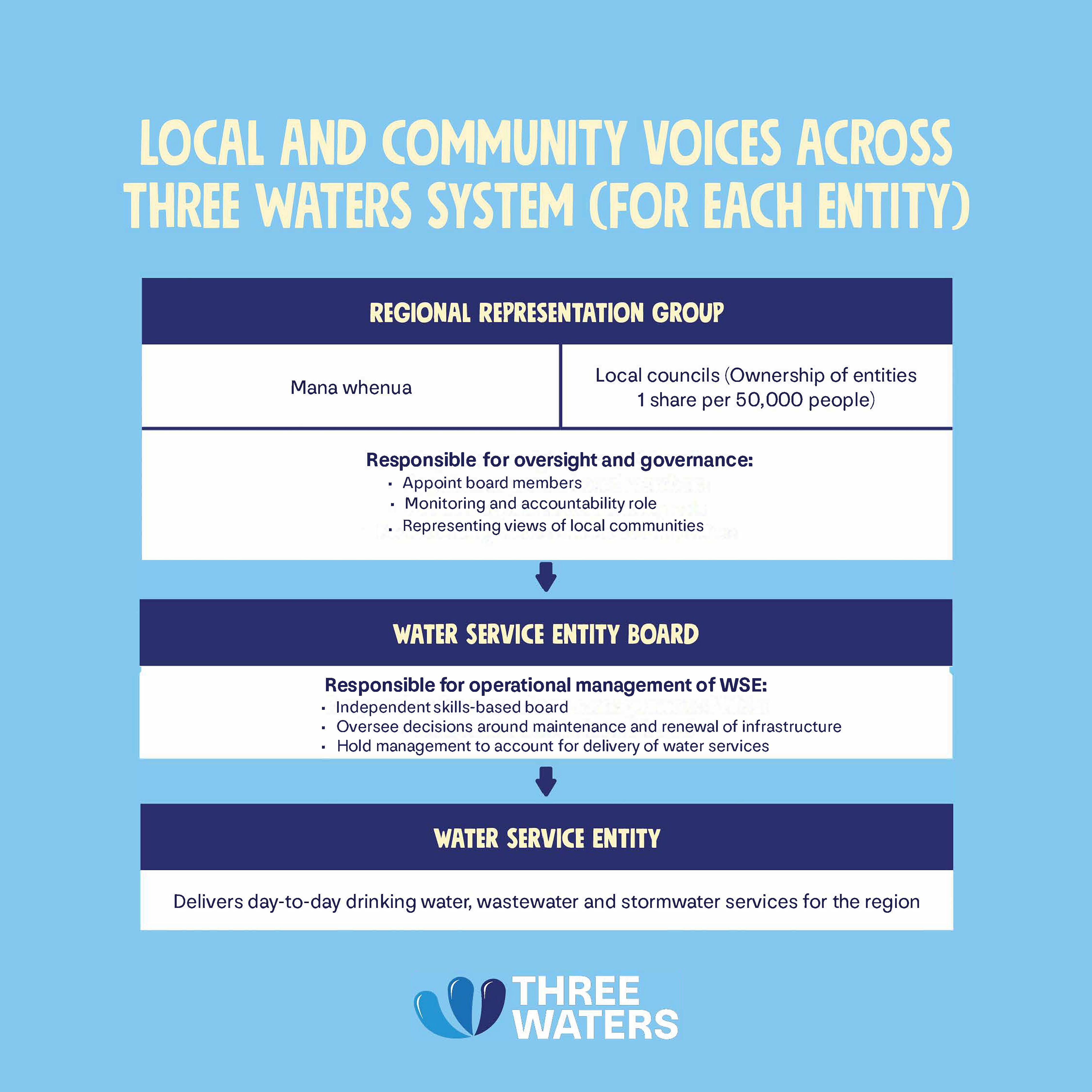 Local and community voices across three waters system for each entity
Regional Representative Groups will provide regional and local level direction and oversight, including joint monitoring of the water services entities. They may establish Regional Advisory Panels to provide them with advice about how to perform or exercise their duties, functions and powers.8
Operations
Like most councils at present, Kaipara has difficulty attracting and retaining staff. As a small council we have to contract in specialist services
The water services entity will be responsible for delivering services. Increasing the size and scale of water service providers would enable the industry to build a larger workforce that includes specialists, such as microbiologists or data specialists.
We will still need local people on the ground to do local work. Remote working means they will be able to work on other projects too.
Better off funding package
Kaipara has currently been allocated a total of $16.14 million to use on projects that benefit the district. We can apply for $4.14 million now. We can apply for a further $12 million in 2024, after the central government elections.6
The Council is considering where that money should be invested.
Some projects suggested for Kaipara, such as improving the unsealed roading network, do not meet the funding criteria.
The Government has also established a 'Better off Funding Package', to recognise how much the change will affect Councils and their communities and their ability to raise money in the future. This is available to all councils, whether or not they support the three waters reform. There are no restrictions attached to it that would prevent councils from discussing reforms in an open forum.
Funding may be allocated to one of the following purposes (further conditions apply):
To support communities to transition to a sustainable and low-emissions economy
Deliver infrastructure or services that enable housing development and growth
Deliver infrastructure or services that support local place-making and improvements in community well-being6.
The Government has just announced a further funding package of $350,000 for each council to help them transition to the new three waters system9.
Questions and answers
How well will Kaipara interests be represented if we are part of a large group?
Kaipara will have greater proportionate representation that some other communities. (Our population equates to approximately half a share but we will get the minimum of one share).
Like any organisation, Entity A will need to prioritise their work, according to need. The new water quality, environmental and investment regulations will guide where that investment needs to be, regardless of the size of the district. If Kaipara water quality drops, Entity A will be required to address that. If our pipes exceed their useful life they will have to be replaced.
Like Councils, Entity A is required to engage with communities on its asset management plans, funding and pricing plans and infrastructure strategies. It will also establish a consumer forum to help understand community needs, and service requirements.
If Kaipara accepts the $16.14 million Better Off Funding package are we committing to the three waters reforms?
The Better Off Funding package does not restrict what the Council can say about the Three Water Reform. The offer does come with criteria as to where it can be spent.
If Kaipara turned down the funding we would miss out on an opportunity to invest in our communities.
Can the new Water Entities be privatised?
Safeguards against future privatisation will be written into legislation to maintain ongoing ownership of the new entities by local authorities elected by communities. Beyond that, the Government will make communities the ultimate guardians of public ownership through a public referendum with any future proposal for privatisation requiring 75 per cent of votes in favour to carry it12.
Will jobs move away from Kaipara to Auckland?
There will be a greater number of jobs available across a broad range of organisational disciplines. The Government has committed to retain all existing 'three waters' staff in current locations so people need only move if they want to. Organisations have good options for working remotely now so people do not need to relocate.
Reform will provide better career paths for people and greater opportunities to specialise.
How will reforms affect Local Government?
Three waters makes up a large part of the business of Local Government. The Government is also reviewing the role of Local Government and has indicated it may play a larger role in community wellbeing. The Government will release more information in a paper due in October 2022.7
Is the Government taking assets I have paid for?
No. The infrastructure you have paid for will remain as a public asset, as it is now with the Council. Councils will collectively own the infrastructure through their shares in Entity A.
The assets are protected from moving into private ownership.
How will the new Governance structure affect the decision-making process?
Currently water infrastructure strategy decisions are made by Councils that are democratically elected every three years. This model relies on elected community representatives having the skills required for governing a complex set of assets and engineering systems.5
The proposal is for strategic decision-making to move to an independent, skills-based, professional Board that is appointed by Councils. They will be required to invest in the network.1
In both instances, the governing bodies are required to consult with communities over their strategies and plans.
How will farm drainage be managed?
We do not yet know what aspects of stormwater or land/farm drainage will transfer to the new Entity. A Government appointed working group continues to finalise these arrangements.
Have your say
The Select Committee is seeking feedback on the Water Services Entities Bill. We encourage you to find out more and have your say on the proposed Bill before 22 July. Please refer to the following Government information on the Water Services Entities Bill and how to make a submission.
Find out how to make a submission
The Council has supported the Communities 4 Local Democracy, which is providing suggestions to people wanting to make a submission. You can find out more on communities4localdemocracy.co.nz
Disclaimer
We have attempted to simplify the complex information provided by Central Government. We have provided this information in good faith, believing it to be a reasonable summary of the Government's proposal. However, we will not be held responsible for the accuracy of the information and recommend you refer to Government sources for further detail. If you are referring to Government information we recommend you check that it is current, as information is changing quickly.
References
Related stories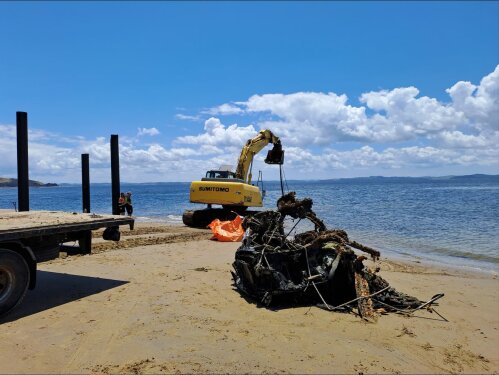 Salt services, a professional dive team, spent most of a day early last week pulling an old car wreck out of the water. The car had been submerged some years ago and was resting where work was starting on the wharf head.
Read more