Pay Your Rates Online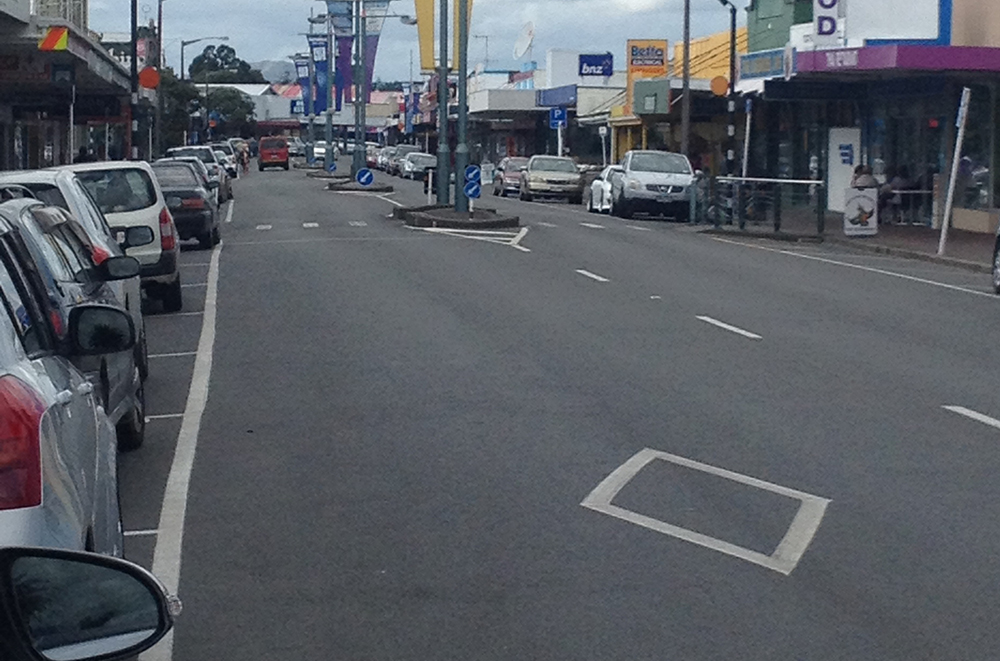 Water Rates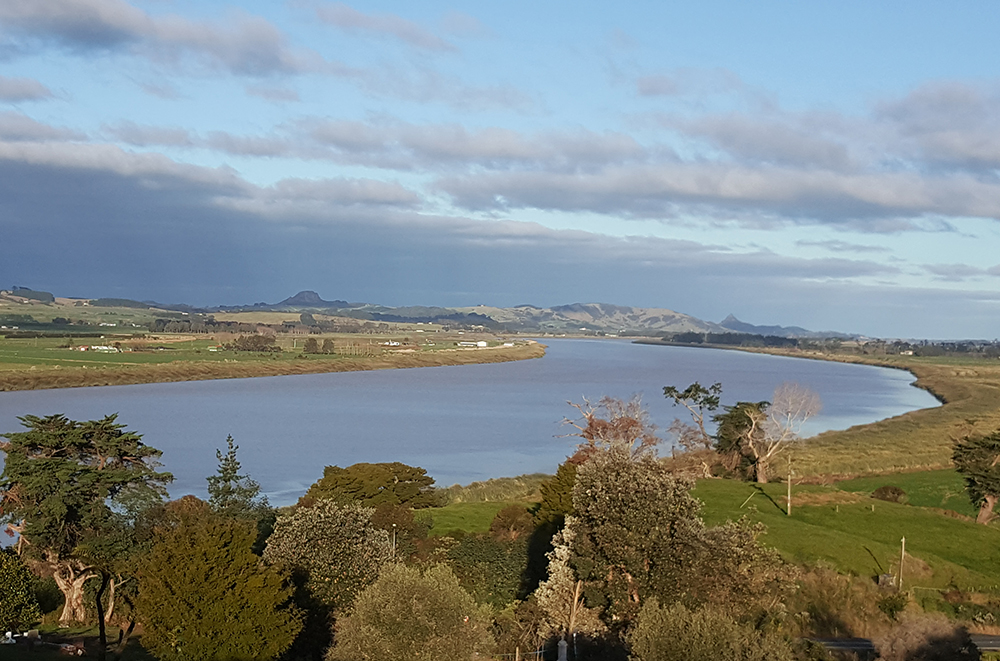 Am I eligible for Rates rebate?
Can I pay my rates in full?
In accordance with section 55 of the Local Government (Rating) Act 2002, which empowers councils to accept early payment of rates, Council will accept payment in full of all rates assessed in the current year on or before the due date for the first instalment of the year. Early payment of rates will attract neither a discount, nor interest on the sum paid.
How can I pay my rates?
Our bank account details are:
Account Name: Kaipara District Council
Bank: Bank of New Zealand
Account Number: 02-0308-0090743-07.
Please quote your valuation number (land rates) or account number ( water rates) when making a payment
If you are paying from overseas:
Bank Swift Number
Bank IBAN Number NZ020308009074307
Payments can be made:
By direct debit Our preferred method of payment for rates is by Direct Debit: You can download forms for Water Rates and for Land Rates.
By online banking Account Number: 02-0308-0090743-07. Please quote your customer number or valuation number (rates only) when making a payment
By telephone banking call Council for the details you need to pay your rates by telephone banking.
By credit card or debit card online, MasterCard and Visa only. The Bank of New Zealand charge you a convenience fee of 2.10% per transaction for this service (with a minimum fee of $1.00 per transaction).
By automatic payment: You can download the form here.
In person (EFTPOS, MasterCard, Visa, cheque or cash). Payment of rates will be accepted during normal business hours at either of the two Council offices.
By mail to: The Chief Executive. Kaipara District Council , Private Bag 1001, Dargaville, 0340
From 30 June 2021 Kaipara District Council will stop accepting payments by cheque because our bank is phasing them out. If you bank with ANZ or Westpac, cheques are phasing out earlier. Please use an alternative method for your next payment.
Any payments of rates due will be credited first to the oldest amounts due.
How do I find out more about my property?
We keep a detailed record of rating information for both Kaipara District and Northland Regional Councils. Use the Property and Information search tool.
Property details – valuation number, property address, land area.
Rates details – your account number, annual rates, previous years rates.
Valuation details – the date rates take effect, land value and capital value.
Alternatively you can contact us.
How do I receive my rates?
Rates invoices must be sent to the rate owner as part of legislation. In this case, by default we send a paper invoice, to ensure we meet our obligations under the law.
If you don't want to receive a paper invoice, please sign up to receive your rates by email.
How does a solicitor request rates information?
How does the Council calculate my rates?
The setting of rates by local government is the result of a number of factors, some of which Council has control over, and some which they don't. Technical decisions such as property revaluations are required by law and are completed every three years (this is happening in September 2020), while rates set by Northland Regional Council have their own separate process, and Kaipara District Council is just a collection point for those rates in the interests of economy and efficiency.
Each property in the district is unique, and it's unlikely any two calculations will come out the same due to a variety of factors; e.g. if your property is zoned residential, or lifestyle, if you're connected to services or not, if you pay targeted rates, or if you have completely paid your capital contribution for the Mangawhai Wastewater Scheme.
How much you pay in rates is dependent on -
The valuation of your property – Property valuations are a statutory process, it's a technical activity, and not political. A revaluation means a redistribution of values and of the rating cost. A revaluation was last undertaken in 2018.
How the land is used – there are rates for urban/small sized lifestyle properties (residential) and an 'other' category, which includes land used exclusively, or almost exclusively for dairy, horticultural, forestry, pastoral and specialist purposes, commercial, industrial or mining purposes and as a utility asset.
Where the property is located and what targeted rates apply - This can include stormwater, wastewater, water supply, and other targeted rates.
What portion of your Capital Contribution to the Wastewater System is remaining - (For Mangawhai residents)
Northland Regional Council (NRC) Rates – There are changes to the NRC rates for this year that may have an overall impact on your total change. NRC sets their rates through their own Long Term Plan, and Kaipara District Council is just a collection agency for efficiencies of service.
Community contribution, funding things like libraries, facilities, playgrounds, sports fields, and their ongoing maintenance (e.g. planting, mowing, safety upgrades).
What are the objectives for Rates remission and postponement schemes?
What are your rates used for?
For the 2020-2021 year, here is a breakdown of what your rates pay for (per $100).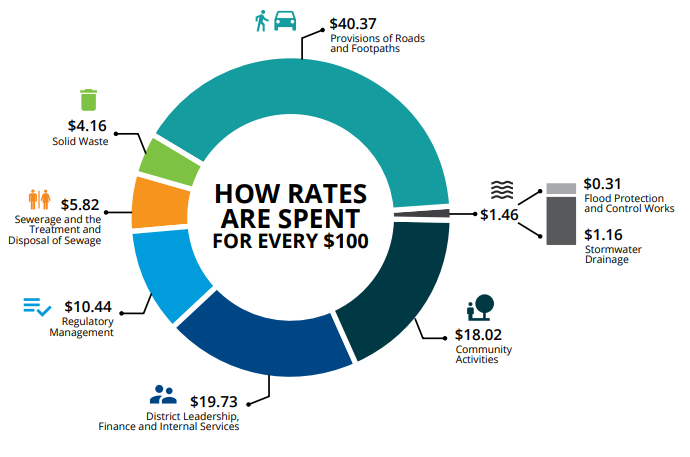 What is the penalty for unpaid rates?
Pursuant to sections 57 and 58 of the Local Government (Rating) Act 2002, the Council delegates the authority to the Revenue Manager and the Revenue Operations Officer to apply the following penalties on unpaid rates:
a) A penalty of 10% of the rates assessed in the 2020/2021 financial year that are unpaid after the due date for each instalment will be added on the relevant penalty date for each instalment stated below, except where a ratepayer has entered into an arrangement by way of direct debit authority, or an automatic payment authority, and honours that arrangement. For each instalment the date the penalty will be added is as follows:
| | |
| --- | --- |
| Instalment Number | Due Date |
| Instalment One | 20 August 2020 |
| Instalment Two | 20 November 2020 |
| Instalment Three | 20 February 2021 |
| Instalment Four | 20 May 2021 |
b) A penalty of 10% of the amount of all rates (including any penalties) other than water-by-meter rates from any previous financial years that are unpaid on 01 July 2020 will be added on 01 July 2020; and
c) A penalty of 10% of the amount of all rates to which a penalty has been added under (b) and which remain unpaid will be added on 05 January 2021; and
d) Water charges – metered properties.
When are my rates due?
The rating year is 1st July to 30th June and is divided into four equal instalments, each invoiced separately. Throughout the year, you will receive four rates invoices, one every three months.
Instalment Number Due Date
Instalment One 20 August 2020
Instalment Two 20 November 2020
Instalment Three 20 February 2021
Instalment Four 20 May 2021
*Rates are set for the above months, on the 20th (or as close to when the day falls on a weekend. Dates are set in the relevant Long Term Plan or Annual Plan).
Where can I find the most recent rates resolution?
The rates resolution is often adopted at the same time as a Long Term Plan or an Annual Plan. These reports are included in the Council Agendas. You can find the most recent rates resolution in the June 2020 Agenda.