Council's role includes acting as the voice of local people. That voice should represent all people who use and/or contribute to the facilities and services provided by Council. It must be able to represent and balance differing interests. And because Council's democratic system is funded by rates, it's important the community feels their interests are represented fairly and effectively.
In order to ensure councils continue to provide fair and effective representation for individuals and communities, they're required by law (the Local Electoral Act 2001), to review their elected representation arrangements at least every six years.
The previous review was in 2018, and the current 2021 review is now finalised. The representation arrangements will stay in effect for six years (two election cycles) or until the next review. Read an overview brochure about the Review
Representation for elections 2022 and 2025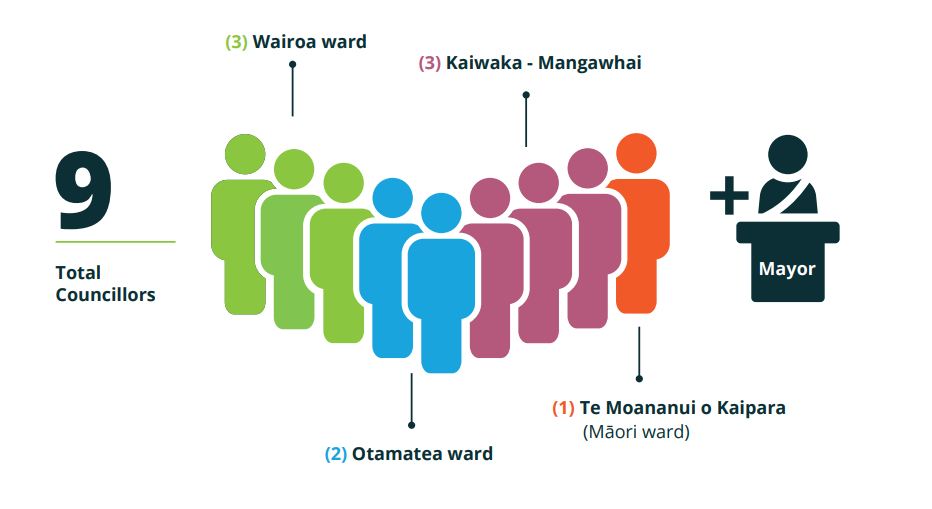 Representation for elections 2022 and 2025 will see nine councillors, plus Mayor (elected-at-large). Councillors will represent Wairoa (merging previous Dargaville and West Coast/Central) with three councillors, Otamatea with two councillors, Kaiwaka-Mangawhai with three councillors, and one councillor elected to represent Te Moananui o Kaipara ward (Māori ward).
Kaipara District currently has no Community Boards.
Next step - Local government elections
Local government triennial elections are being held by postal vote on Saturday 08 October 2022 and will be undertaken by Election Services, under contract to Kaipara District Council. Find out more on the Local Elections 2022 page of our website.
More information
Read about Representation Reviews via the Local Government Commission website