Interment Options
In broad terms there are two main interment options:
standard burial (for burial of the body)
ash burial (for burial of the cremated body)
Choosing an interment option that best suits you or your family is something you will likely wish to discuss with family, friends, your funeral director or Council.
Standard Burials - Grave Plot Interment
The two standard burial grave plot interment options available are:
lawn burials – memorial options include flat memorials laid on the concrete berm, such as inclined memorials and plaques
memorial burials – memorial options include the more traditional upright headstones
For both options, a maximum of two (2) standard interments may be buried in any one grave plot.
The flow chart below outlines the key aspects of a generic standard burial grave plot interment process.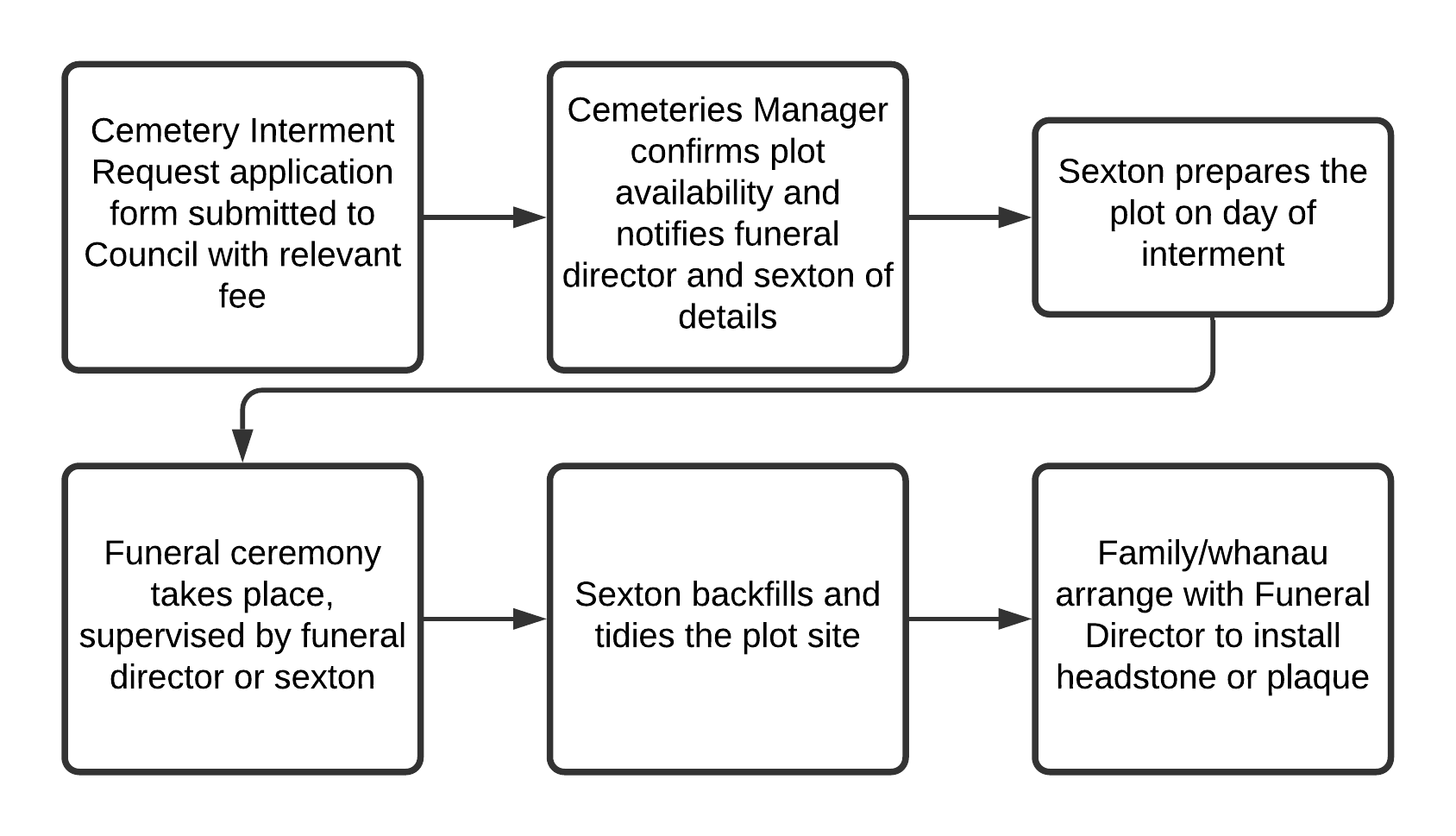 Please note: Ceremony plantings, gardens, trees, shrubs, pebbles or other similar such items of any kind must not be placed on the ground area of a grave or ashes plot area. This is because this area will be established as mown grass turf following an interment.
Ashes - Plot and Urn Interment
Options for the interment of ashes:
Standard Plot – ashes can be placed in a standard burial plot and may include a flat plaque or upright headstone. Depending on the placement of previous interments, up to 6 lots of ashes can fit in a standard plot, however this must be discussed with Council prior to the first and subsequent interments.
Ash Plot - ashes are placed in specified Ash Plots in front of a concrete beam with an inclined memorial or plaque placed behind on the beam. Depending on the placement of previous interments, up to 4 lots of ashes can fit in an ash plot.
The flow chart below outlines the key aspects of a generic ash interment process;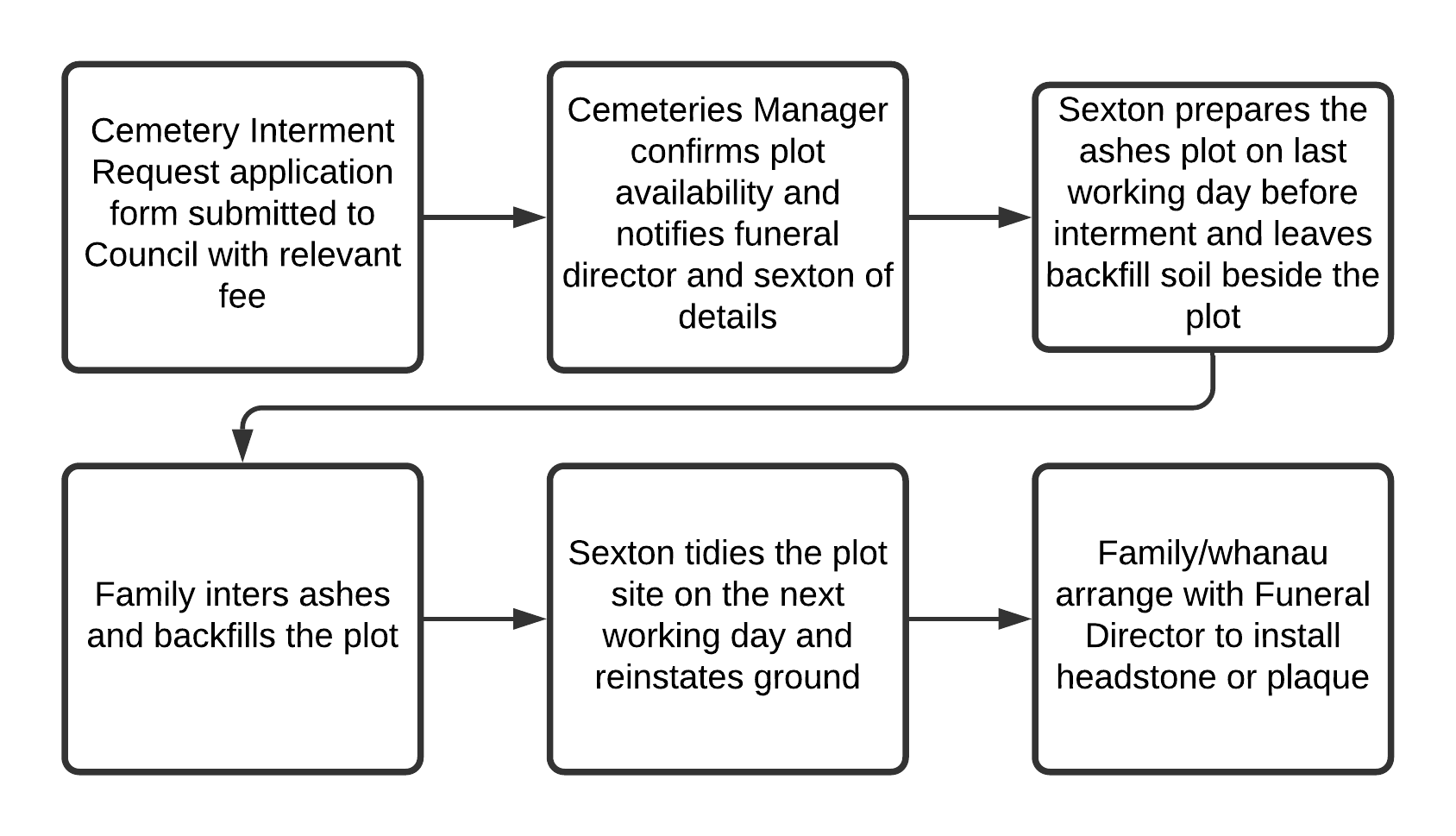 Scattering of Ashes
Scattering of ashes is a very personal and sensitive matter. Different cultures have different ways of dealing with cremation and ashes, and it is important that we consider this when deciding where to scatter ashes.
Ashes can only be scattered on private property with permission of the property owner, but it is important to remember that private property can change ownership.
Similarly, public places change often – gardens and trees can be uprooted or re-planted, earthworks and construction can occur, and public access can change. Ashes can affect the health of plants, flowers and grasses, and thought must be given to those who use the space to picnic, exercise, relax and work – remember that some people, including gardeners and maintenance workers, may not feel comfortable working with soil knowing it contains human ashes.
Dispersal of ashes in places of food cultivation, gathering areas and waterways is considered tapu (sacred) in Maori culture, whereas this is a special part of other cultural beliefs. We encourage you to contact the local iwi before scattering ashes in any of these places, including local beaches, lakes or rivers.
Many places like privately owned gardens, hospices and cemeteries have dedicated ash scattering areas and other memorial options. For more information on appropriate locations, guidance around the process and ways to reduce the impact on the environment, please contact Council to discuss.
Services Area - RSA Interments
The Council maintains and cares for the Dargaville RSA Cemetery grounds on behalf of the New Zealand Veterans' Affairs Department and in consultation with the local Return Services Association branch.
Currently only former Armed Services personnel who have war service, or service and experience that is equivalent to war service, may be interred in a cemetery services area. Their spouse or partner may also be interred with them.
The services areas are laid out in a very uniform way and therefore only standard services burial, or ashes plaques are used. These are very plain and have has no provision to accommodate personal messages or photographs.
Natural Burials
Natural burial interments (sometimes referred to as an 'eco-burial') involve shallow graves, around one metre deep. The body is not embalmed and is placed in a shroud or cardboard, wicker or untreated timber casket. The plot is filled with organically active soil to aid decomposition. Graves are then identified with a GIS location marker or a tag on a tree as opposed to a traditional headstone.
Natural burials are not currently available at any Council managed Cemeteries; however, Council is investigating the suitability of this as an option in the future.
Memorial Walls (New Mt Wesley only) – No Interment
New Mt Wesley Cemetery has a memorial wall available for the placement of remembrance plaques. This is a great option when there is no interment, but family, whanau or descendants wish to have a place to acknowledge and remember a loved one. While this is something that loved ones can often arrange, Council permission is essential. Council reserves the right to remove plaques or monuments that do not meet Council rules, including those erected without prior permission.
An application for a memorial wall plaque must be made and relevant fees paid to Council, prior to installation. Memorial wall plaques must be no bigger than 190mm x 65mm and must be installed to a professional standard (as specified in the New Zealand Standard for Headstones and Cemetery Monuments NZS4242).
Memorials, Headstones or Plaques
The concrete beam adjacent to any burial or ash plot is available for the instalment of a memorial. A funeral director or monumental mason can help you with this or you can arrange this yourself.
Currently no permits are required prior to the installation of a headstone, however it can be very helpful to notify Council once installation is complete as this helps keep cemetery records up to date and accurate, as well as assisting with genealogists tracing families in the future.
If the family choose to complete installation themselves, memorials must be kept within the boundaries of the plaque size and installed to a professional standard (as specified in the Burial and Cremation Act 1964 and New Zealand Standard for Headstones and Cemetery Monuments NZS4242).
The requirements for memorial installation are:
Temporary Memorials - Following an interment, a temporary grave marker made from timber or plastic, not exceeding 800mm in height, may be placed on the concrete berm in a secure manner for up to 12 months following burial
Lawn Burials - For plots in the lawn section of the cemetery the flat memorial can be a maximum 600mm x 600mm to fit within the berm
Upright Headstone Memorials - For plots where upright memorials are permitted the base must be within 900mm long and 320mm deep with an average overall height not exceeding 950mm
Ash Plot - The average size for a plaque on an Ash Plot is 350mm x 220mm
New Mt Wesley Memorial Wall - A plaque to be put on the Memorial Wall can be no bigger than 190mm x 65mm
Only one monument will be allowed on any one grave, including extra-depth burial graves, and monuments may cover no more than two plots.