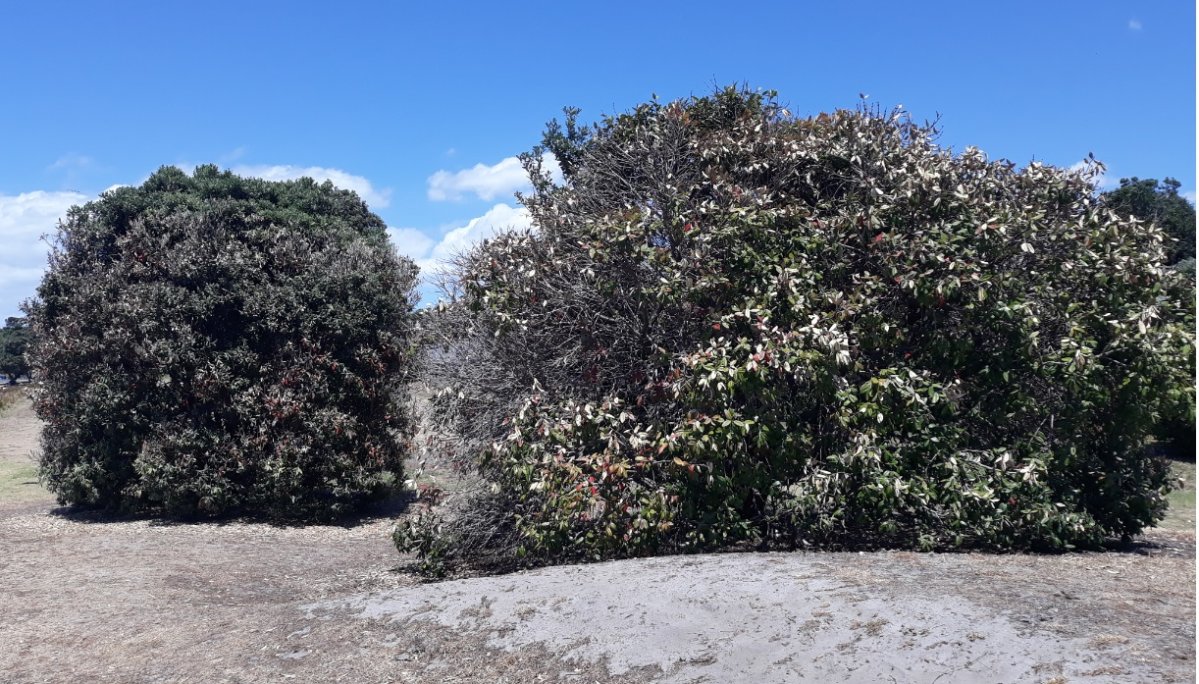 The two pōhutukawa are exhibiting crown damage and other signs of herbicide poisoning.
Community
Mangawhai
Poisoned pōhutukawa trees saddens community and Council
Media Release
Two pōhutukawa trees have been poisoned by vandals in Mangawhai. The trees – approximately fifteen years old and growing on Council-owned coastal reserve – are exhibiting crown damage and other signs of herbicide poisoning.
Mike Collins, Parks Officer for Kaipara District Council says investigations have uncovered what appears to be a hole drilled into the trunks, and poison injected directly to the bases. It was not clear what type of poison had been used. The Council Parks team was made aware of the dying p?hutukawa after multiple reports from concerned residents in the area.
Collins would not speculate on who had poisoned the trees. He says the attack has saddened the Parks team and the community members he had spoken with.
Cases like this can be difficult to prosecute as there are often no eyewitnesses to the events. Collins urged anyone with information or knowledge of who had poisoned the trees to contact the Parks team on parks@kaipara.govt.nz.
Offenders can be charged under the Consolidated General Bylaw 2020 with an infringement fine of up to $500, as well as a fine under the Reserves Act 1977 of up to $1600. Council can also enforce mitigation measures to replace any vandalised tree with one of similar size and age.
ENDS
Related stories
The end of another winter gave us some much-needed sunshine and blue skies. Now with Spring upon us and the days getting longer, our focus moves to pavement works.
Read more