Councils currently own and operate three water services, which cover drinking water, wastewater and stormwater. More investment is needed in water infrastructure to water quality standards. Not just in drinking water, where current standards are not being enforced, but also wastewater and stormwater. The Government says the scale of investment would be extremely challenging for councils to fund on their own.
In July 2020, the Government launched the Three Waters Reform programme – a three-year programme to reform local government three waters service delivery arrangements.
Three waters reforms have been mandated for councils, with legislation to move ahead in 2022.
Currently 67 different councils own and operate the majority of the drinking water, wastewater and stormwater services across New Zealand.
The Government says the programme seeks to ensure no council is worse off and every community is better off after reform. It also sets councils up to focus on community wellbeing – and creates a precedent for working more closely with the Government.
The proposed reforms would move the management of those water assets out of the hands of the country's 67 councils, to four large water entities, with the aim of providing better water services around the country at a lower cost.
Those entities would have boards jointly elected by a group set up by councils and Māori, and have responsibilities to them, but would be run independently.
The Department of Internal Affairs (DIA) has released a map (below) showing the proposed boundaries of the entities.
Kaipara would be included in entity A (all of Auckland and Northland) and our Council is in the process of giving the Government feedback on the map and hasn't firmed up a position on the overall proposal and boundaries yet.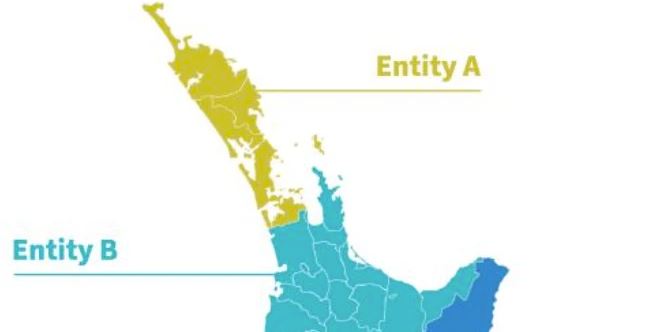 At the Local Government NZ (LGNZ) Conference in mid-July the Government announced a $2.5 billion package for councils as part of its three waters reform.
The package has three financial components:
Support for local government to invest in communities' wellbeing. This part of the investment totals $2 billion, with $500 million being available from 1 July 2022. It will be allocated between councils according to a nationally consistent formula, reflecting population (75%), deprivation (20%) and land area (5%).
Targeted support to ensure no councils are financially worse off as a result of transferring their three waters assets. This is designed to protect councils from any negative financial consequences of the asset transfer.
Cover of reasonable transition costs. This is intended to make sure council service delivery (including of water services) during the transition isn't compromised by the work needed to make the transition happen.
What does this mean for Councils?
New standards would be established and enforced through new water regulator, Taumata Arowai.
Under the current proposal local authorities would be the owners of the entity, on behalf of their communities.
The entities would own and operate three waters infrastructure on behalf of territorial authorities - they would hold three waters assets and associated debt.
What are the next steps?
Working groups have been established to help refine the reform proposals with regard to oversight and accountability, rural supplies and the resource management interface.
Kaipara Mayor, Dr Jason Smith, is in the wording group, representing entity A.
They will be addressing issues such as:
Ensuring all communities have both a voice in the system and influence over local decisions. This means being sure the water entities understand and act on communities' needs and wants, including responding to localised concerns like a desire for chlorine-free water.
Effective representation on the new water entities' oversight boards so that there is strong accountability to the communities they serve. This includes effective assurance that entities, which will remain in public ownership, cannot be privatised in future.
Making sure councils' plans for growth are appropriately integrated with water services planning.
Three waters campaign
At the November council meeting, Elected Members voted to join other participating councils by contributing $5,000 to a campaign opposing the Government's intention of the three waters reforms.
Where can you find more information on the reform
You can view the overview of the programme here.
You can read briefings and presentations for Council:
Read the Mayor's letter to Hon. Nanaia Mahuta (sent 30 September 2021)
Read Statement from Dr Jason Smith following release of the Recommendations Report of the Three Waters Working Group into Representation, Governance and Accountability (sent 09 March 2022). Note: the views expressed in this statement are those of the Mayor. Council has not formally addressed the Working Group's report.
You can also read more information on the reform programme on the DIA and LGNZ websites.