What is climate change?
Our planet's atmosphere is made up of oxygen, nitrogen, and a small percentage of greenhouse gases (GHGs), like carbon dioxide and methane. GHGs work to trap warmth from the sun. Without them, too much heat would escape, and the surface of the planet would freeze. However, increasing the concentration of GHGs in the atmosphere causes the Earth to heat more and the climate to change.
Earth's climate has changed throughout history, but now the planet is experiencing a warming trend that is a result of our human activity since the mid-20th century (anthropogenic causes). The warming trend is happening faster than has been seen in recent history. This is what we call climate change.
Climate change represents one of the greatest risks to our communities, biodiversity, economy and the life-supporting capacity of our planet. The effects of climate change are being felt across the country. Here in Te Tai Tokerau, Northland and in Kaipara District our communities are already experiencing real changes. The future physical impacts of climate change are likely to be significant and wide-ranging, and will affect our diverse communities, industries and natural environments differently.
What does climate change mean for Kaipara?
Important to note that these are general timeframes and rely on multiple different projections. Technical reports on climate can be found via the Kaipara Kai work, or read the NIWA Climate Report.
Projected impacts summary
Increased risk of river flooding
Increased risk of drought
Increased risk extreme winds
Increased risk of landslides and soil erosion
Increased risk of marine heatwaves & pH and nutrient changes in marine waters
Increased risk of coastal flooding and inundation and coastal erosion
Increased risk of groundwater salinisation and reduced drainage capacity
Rainfall
16-22 fewer wet days by 2090.
Slight variations in annual rainfall changes (around 2%), with increases projected in Autumn and decreases for Winter and Spring.
Increase in severity of rainfall events (more intense short duration rainfall events). By 2090, the depth of a current 1 in 100-year, 1-hour duration rainfall event is projected to increase by approximately 35%.
Sea Level Rise
How fast sea levels rise depends on how much and how quickly we can reduce our emissions across the planet. The sea level rise (SLR) projections below show what is likely to happen if we continue emitting as usual. In climate change science, this scenario is called RCP8.5. It is sometimes referred to as 'business as usual' scenario or 'worse case' scenario.

.3m SLR by 2045 - 2060
.6m SLR by 2070 - 2085
.9m SLR by 2090 - 2110
1.2m SLR by 2110 - 2130
1.5m SLR by 2130 - 2160
Temperature
Increase in temperature of 0.5-1.5°C by 2040, and 1.0-3.5°C by 2090
Increase in number of hot days and heatwave days by 60-80 days by 2090. Increase in number of dry days through the district. Drought potential is projected to increase.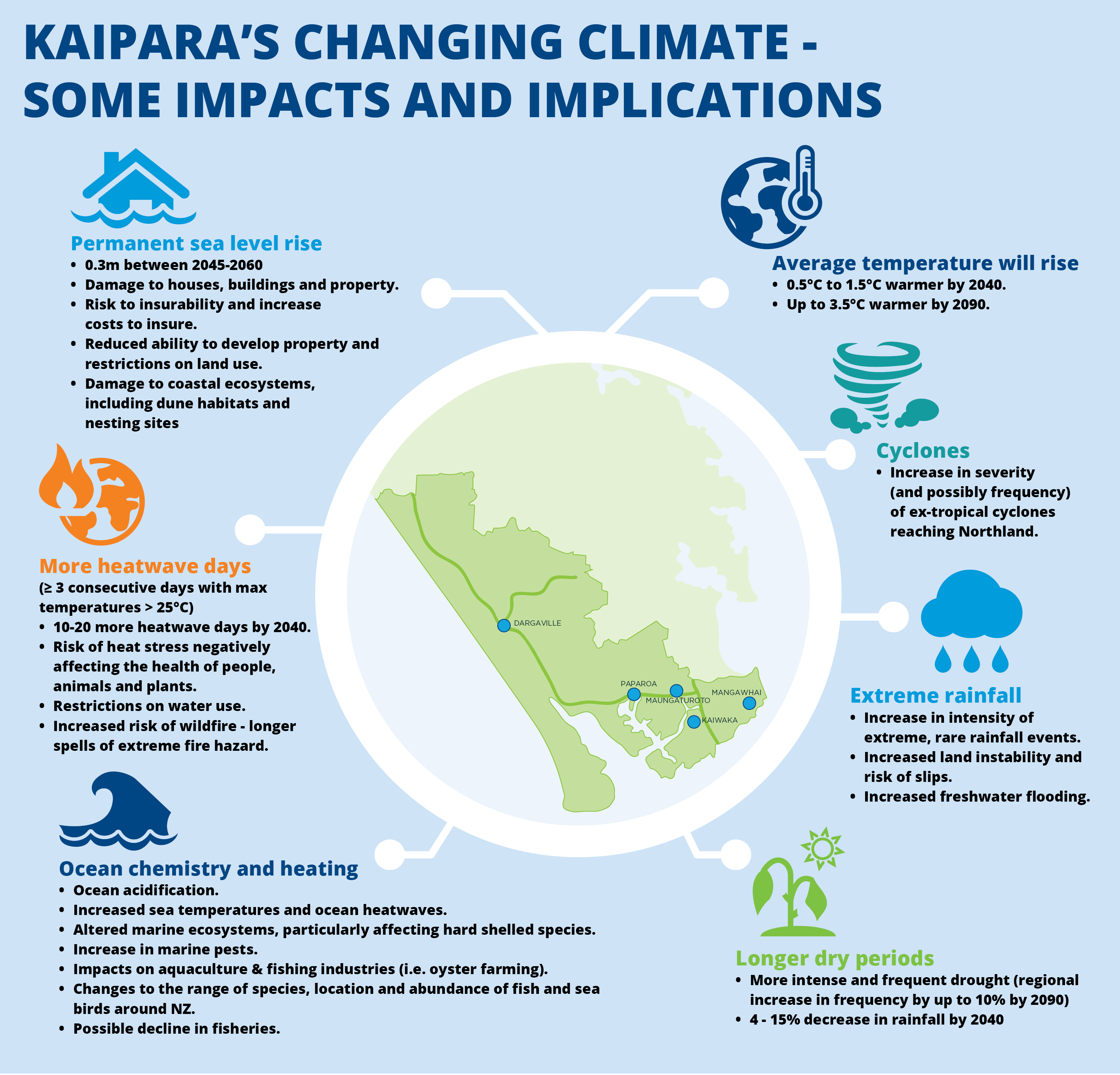 Climate change mitigation and adaptation
Climate change work is generally broken down into mitigation actions and adaptation actions.
Mitigation action is any human intervention that reduces the sources of greenhouse gases [GHGs] or enhance the sinks of GHGs. New Zealand has signed the Paris Declaration and passed the Climate Change Response Amendment Act 2019 [Zero Carbon Bill] that commits the country to net zero emissions [except biogenic methane] by 2050.
Adaptation action is grounded in evidence that, regardless of what happens with emissions today and in the future, we are locked into 1.5°C warming and connected changes. This is due to our past global emissions. Through adaptation, we seek to moderate or avoid harm or make the most of beneficial opportunities.
The ways the projected changes and increased natural hazard risks will affect our communities and our livelihoods will depend on when and how we decide to adapt and mitigate further emissions.
What are we doing about climate change?
In 2017, Council signed New Zealand Local Government Leaders' Climate Change Declaration. This declaration commits Kaipara District Council to climate change action.
Council is currently reviewing its two main tools for planning and strategy, the District Plan and the Long Term Plan. As a part of this review, Council is laying the groundwork for a unified climate change work programme. The work programme significantly increases our mitigation and adaptation services. It is made up of four core areas:
Climate Smart Policy: Setting clear direction and standards on how we identify, understand, and consider climate change throughout Council.
Climate Action Plan/s: Real actions across Council to address climate change, transition to a low emissions district, and grow resilience. Created with Mana Whenua partners, communities, and district wide stakeholders.
Adaptive Pathways Planning: Decisions on adaptation strategies with communities most at-risk to climate change impacts, particularly coastal impact. This also includes participation at regional level to create a Regional Adaptation Strategy.
Communications Platform: Improved communications around climate change projections, impacts, risk and response. Increased online learning opportunities and educational resources.
As our climate change work programme develops, Council is committed to working collaboratively our Mana Whenua partners, Te Roroa and Te Uri o Hau. This includes support of Te Ao Māori approach to climate change adaptation and mitigation.

Council is also working key stakeholders, engaging with communities, and upholding rangatahi voices. There will be many opportunities, both online and in person, to tell us about the kinds of climate change action you want to see in your community and throughout Kaipara.
Reducing emissions
Each year, Council measures the GHG emissions produced through our activities and services to show how we are tracking with reducing our emissions:
Adaptation actions
Council is a participating member in Climate Adaptation Te Taitokerau (CATT) joint council collaboration.
CATT is in the process of conducting a Risk Assessment and forming a Te Taitokerau Adaptation Strategy.
In collaboration with NRC, Council is currently updating and expanding natural hazards mapping and modelling for Kaipara District.
Mitigation actions
Council is in the process of a GHG emissions inventory and will publish a Corporate and District GHG Footprint this year. We aim to begin annual reporting on our emissions in 2020.
We have increased energy efficiencies and reduced energy consumption through LED lights projects and solar speed signs.
We have a Waste Minimisation Plan and are reviewing an updated Waste Minimisation Plan.
What can I do about climate change?
We all have a part to play. Check out Ministry for the Environment "What you can do about Climate Change" to get some ideas. If you're a farmer, check out opportunities through AgResearch or NRC.
Find out your footprint and reduce your emissions
Learn more about climate change